'Black Bird' is Good True Crime, 'The Rehearsal' Episode 5 Recap and Complaining About 'Game of Thrones'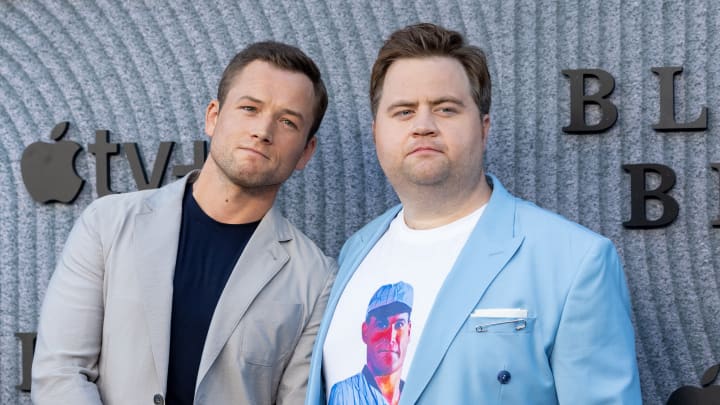 Los Angeles Premiere Of Apple TV+ New Show "Black Bird" - Arrivals / Emma McIntyre/GettyImages
1:00 - Intro
1:30 - Episode 5 Discussion
11:05 - 'Apocalypto' and Acting
14:00 - Season 2 Budget?
16:36 - Fuddruckers and 'Black Bird'
22:08 - Ray Lotta
25:50 - Is 'Black Bird' Binge-able?
29:00 - House of the Dragon
Theme
0:30 - A colleciton of things Kyle Koster and Stephen Douglas would say later in the podcast, but set to music so it seemed much more epic.
Intro
1:00 - Today we're talking about Apple TV's Black Bird and HBO's The Rehearsal.
Episode 5 Discussion
1:30 - A discussion of episode five of The Rehearsal. The show gets bigger as it gets smaller. Nathan Fielder continues to address the issues with the show. While he manipulates his subjects, he also puts himself out there to get pushed around and abused. How much pain does Fielder expose himself to? Was the season a success if most of the rehearsals in The Rehearsal were failures?
Apocalypto and Acting
11:05 - Kyle gives a passionate defense of Angela's favorite movie which inspired the title of this episode, Apocalypto. Plus, a celebration of Fake Angela, yet another great actor that the show found. And another person to put Nathan in his place. Oh, and Nate's Lizard Lounge rocks.
Season 2 Budget?
14:00 - What show could this have been and will there be a second season? Will HBO be able to afford it?
Fuddruckers and Black Bird
16:35 - You like segues? How about building your own burger or true crime shows? Well, Apple TV has a true crime show called Black Bird starring Taron Egerton, Paul Walter Hauser, Greg Kinnear, Ray Liotta and Sepideh Moafi. We watched it. You should too.
It's a small ensemble that we both enjoyed.
Ray Liotta
22:08 - It was one of Ray Liotta's final roles and much better for him than The Many Saints of Newark. And a celebration of Jake McLaughlin in his small, but memorable appearance as Gary.
Is Black Bird Binge-able?
25:50 - Can you binge Black Bird or is it best as a weekly? We discuss modern viewing habits. Is it better to look forward to a show or consume it all at once. What shows are worthy of The Conversation.
House of the Dragon Hype
29:00 - House of the Dragon may be the next Conversation show. And how badly did the final season of Game of Thrones hurt the original's legacy. At least two people form this site will be talking about the GoT prequel / spin-off next week.