'The Rehearsal' Review: Discussing Nathan Fielder's Insane New HBO Show on 'The Big Stream'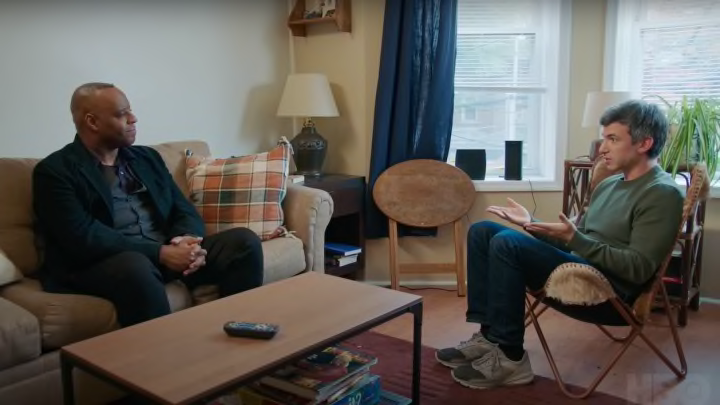 'The Rehearsal' Review Podcast
0:00-3:15: Who is Nathan Fielder and why is he one-of-one.
3:15-7:15: What is the plot of the pilot episode and who are the main characters?
7:15-11:30: Does any show on television have this same attention to detail? Just how incredible of an undertaking is being attempted? And does it work?
11:30-18:30: There are intentionally awkward moments and some real questions about the ethics in producing a show like this. Are there any lines crossed in the name of content?
18:30-23:00: Putting regular people at the center of the frame is a high-risk proposition. Why did this episode succeed? And will future installments share the same success?
27:00-33:21: Rating the show and closing thoughts.
Thoughts on The Rehearsal
Hello Big Streamheads! Nathan Fielder's new show, The Rehearsal, arrived on HBO Max on Friday night. The follow-up to Nathan For You takes Fielder's unique brand of comedy and life advice and applies it to people instead of businesses. The results of the first episode are cringe-worthy, hilarious and at the very least, memorable. If you have not seen it, what are you doing here?
If you have watched the first episode titled, Orange Juice, No Pulp, well then come with me and you'll see in a world of pure imagination...
The Rehearsal Trailer
At it's core, the series is about Nathan Fielder helping people prepare for big moments in their lives. It's a pretty standard idea, but when you add in Fielder's half-evil genius, half-Canadian with a degree from one of Canada's top business schools mindset, you get one of the most twisted semi-reality shows ever.
Is Nathan Fielder Problematic?
Basically, Fielder will take a real person's problem and apply the most extreme possible preparation and HBO budget to it. Throw in his ability to create the most awkward interaction while trying to help someone do something and you get The Rehearsal. If you like Fielder, you'll love this show, but we're left wondering if he's as altruistic as the show's premise seems like it would suggest.
The Rehearsal's Best Bit
In the meantime, let's marvel at the ways that Fielder incepted his first human guest Kor with trivia answers. It's one of those things - along with the construction of entire apartments and bars - that makes you wonder just how much time went into a single episode of this show. How many memorable interactions do you have to have on daily walks before you think that something is amiss? Especially when you're being followed around by cameras. And, of course, those freaking recumbent bikes.
I guess it doesn't matter. If you're the type of person willing to let Nathan Fielder run your life for a few weeks you learn to just go with the flow. Kor comparing Fielder to Willy Wonka is the perfect comparison for this show. We discuss that and more on TBL's pop cultural podcast, The Big Stream.