Rob Manfred Digs Deep, Powers Through World Series Trophy Presentation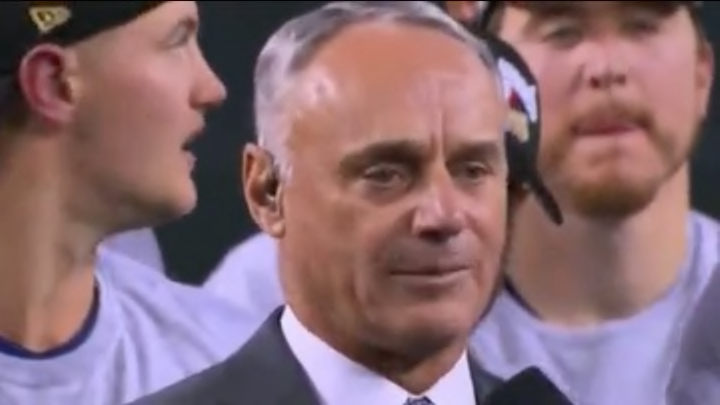 Major League Baseball had a spectacular postseason no matter how much people want to hem and haw over ratings. They would have preferred that the Texas Rangers-Arizona Diamondbacks World Series had gone seven games like both thrilling League Championship Series but Corey Seager, Marcus Semien and a suddenly lockdown pitching staff had other plans, wrapping up the crown last night with a shutout victory in Game 5. Which left Commissioner Rob Manfred to power through the trophy presentation without a few extra days to rest his voice.
Here's how that went.
Honestly, a savvy move. Manfred's been the recipient of a good amount of critiques through the years and this moment does nothing but make him more relatable. Who among us hasn't been tasked with giving an important message in front of a crowd while a bit hoarse? The little nagging fact that the whole voice could go at any moment is a dangerous thrill and sharpens even the most polished public speaker to get right to the point.
Manfred was in and out in about 18 seconds, proving that baseball's new pitch clock is improving the pace of play both on and off the field.