Who Made the Decision to Review and Overturn Max Strus' Three-Pointer?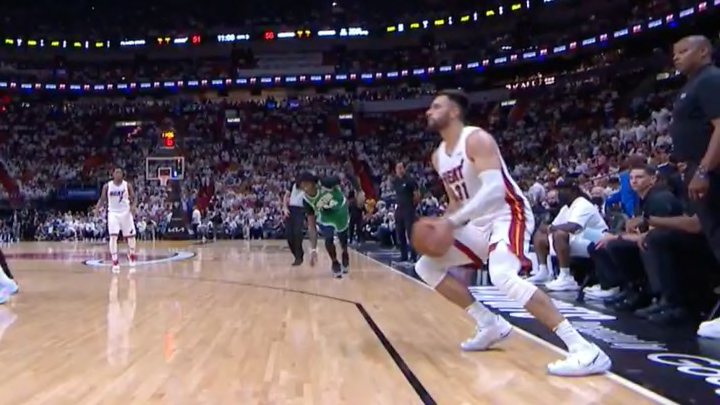 Max Strus /
Last night's Game 7 between the Miami Heat and Boston Celtics was a hotly-contested affair that ended in disappointment for the home team as the Celtics moved on to the NBA Finals. It was a pretty standard NBA playoff game in that neither side was particularly pleased with the officiating, but Heat fans will not let anybody forget the one weird call that puzzled everybody watching.
One minute into the third quarter, Max Strus hit a three-point shot from the corner to make the score 56-54. Three minutes of gametime passed on the court and the Celtics carved out a little breathing room on the scoreboard, going up by eight points before Robert Williams got fouled by Jimmy Butler. Then, in the middle of Williams' free throws, the Heat lost three points. Anybody who wasn't watching the scoreboard like a hawk didn't notice until the broadcast team announced that Miami's deficit had grown because a replay revealed Strus had stepped out of bounds on his three-point attempt back at the 11:04 mark.
It was very confusing because points never get taken off the board like that so far after the play happened. Erik Spoelstra said afterwards that he was "in shock" when he was informed that his team lost points and that there was no real explanation provided. The refs apparently told the head coach that someone back in the league offices had ruled it didn't count and that was that. The Heat ultimately lost by four.
It is true that every point counts in a Game 7 and it's also true that Miami missed a bunch more of those shots to lose the game. It wasn't like it was a buzzer-beater that got nixed. It is disingenuous to think it cost the Heat the game, as Spoelstra himself said, but it was undoubtedly a bizarre decision that somebody is going to have to answer for.
Who decided to even review it in the first place? It's not something Ime Udoka could've challenged. Strus got the shot off with a half-dozen seconds left on the shot clock so nobody was going to review that. Replay officials are presumably permitted to review any play in which a player seemed close to being out of bounds, but I can't remember a single instance in which an official who wasn't on the court decided to review something like that. The only thing that makes sense is someone in the replay office back in Seacacus wanted to ensure Strus' foot wasn't on the line. But to review if it was a two or a three and then to overrule it completely?
It was confusing. The refs at the game didn't announce it or give an explanation to the crowd. The process that occurred here is quite murky. And the worst part may be that it was not a clear-cut call. It sure looked like his heel hit the line but it was really, really close. Arguably too close for someone several hundred miles away to make a unilateral decision.
Funky things tend to happen during playoff basketball. This is another example, and one that Miami fans will be stewing over for a while.