White Sox Postgame Crew Disgusted by Eloy Jimenez Answer About Leadership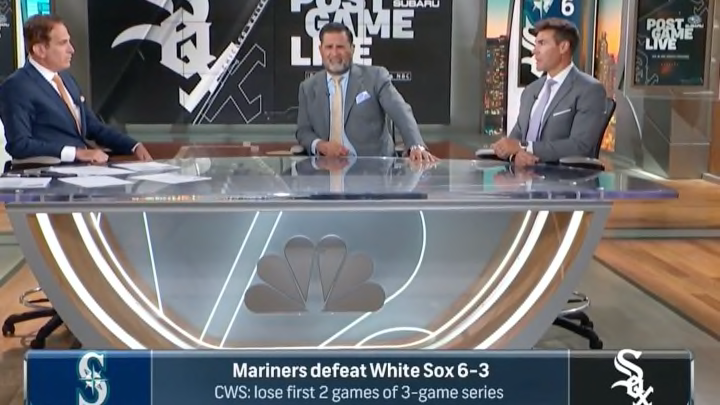 NBCS Chicago /
Tuesday was a day of reckoning for the Chicago White Sox franchise. Owner Jerry Reinsdorf fired executive VP Ken Williams and GM Rick Hahn, who had led the team in tandem for nearly a decade and both of whom have been with the organization for much longer. The fact that Reinsdorf finally felt forced to fire his longtime employees should go to show how bad things have gotten. Entering Tuesday the White Sox were nearly 30 games below .500. The Tim Anderson fight and Kenyan Middleton calling out the clubhouse culture are the only noteworthy things to happen on the South Side all season.
The firing of the higher-ups did not motivate anybody yesterday as the White Sox went out and lost 6-3 to the Seattle Mariners. The mood in the locker room was rather depressing. Eloy Jimenez was asked about a potential leadership vacuum in the clubhouse and he gave an answer that absolutely disgusted the NBC Sports Chicago postgame crew.
Here's Ozzie Guillen, Scott Podsednik, and Chuck Garfien putting the team on blast.
Garfien had the most devastating line of the segment: "Players, kids, are going to do what they can get away with and this team has not been held accountable this entire year." Woof.
The moves made yesterday should only be the beginning for this team. It's broken beyond repair and big change is needed. But White Sox fans probably shouldn't get their hopes up. Reinsdorf is still calling the shots and as long as that's happening, competency in management will only happen by accident.
Only another month or so before the franchise can put this season behind it and begin another rebuild. Because that is what's needed after such a catastrophic year.