Watch: Brooklyn Flooding Videos Are Crazy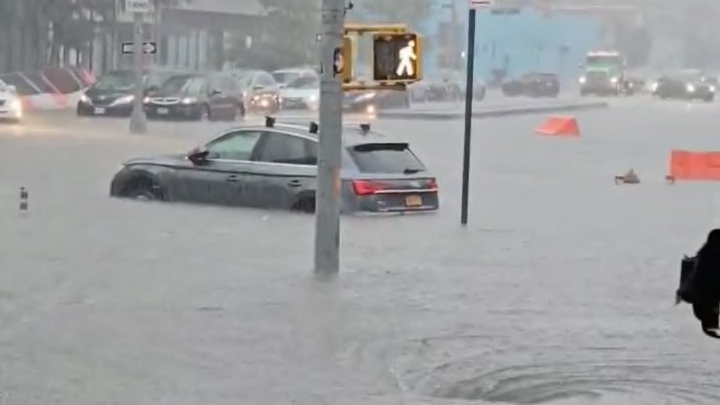 Brooklyn was underwater on Friday morning thanks to heavy rain. According to CNN parts of Brooklyn got a month's worth of rain, or more than four inches, in just three hours this morning. The results have been catastrophic with streets and subways flooding. Videos trying and failing to navigate the water are terrifying.
Public transporation continues to try and operate as you can see in this video that shows water covering the floor of an MTA bus.
8.5 million people are under a flash flood watch and one of the LaGuardia terminals had to close because of the water. Per CNN:
The flood threat will impact roughly 25 million people across the Northeast Friday, and the New York tri-state area is facing a Level 3 of 4 "moderate" risk for flash flooding, the National Weather Service warned.

The urban flood threat prompted officials in New York City to issue a travel advisory starting at 4 a.m. Friday through 6 a.m. ET Saturday, warning of potentially "widespread travel impacts" during the morning commute.
People have been advised not to travel, but if they must they are supposed to leave themselves extra time, use public transportation and avoid flooded roadways, which seems easy enough until you watch those videos and see that everyone probably just should stayed home for one day, but hey, this is America.