One-Handed Chipper Austen Truslow Qualifies for U.S. Open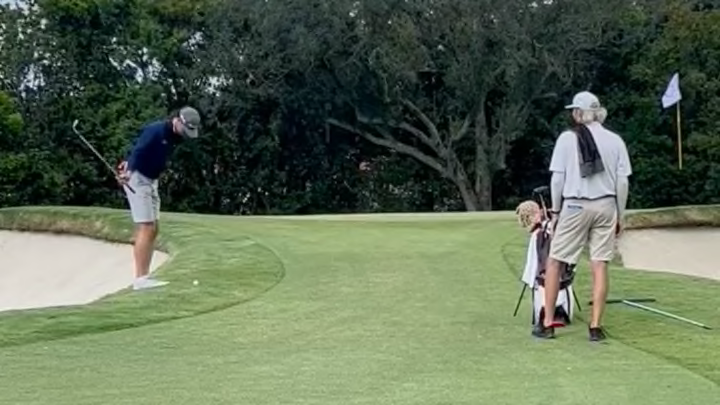 Yesterday saw one long day of golf as U.S. Open qualifiers took place all over the country. The honor of playing in a major is plainly obvious, but now there's also the opportunity to build upon the Cinderella story started by Michael Block when he effectively stole the PGA Championship spotlight. Twenty-seven-year-old Austen Truslow, competing at Pine Tree Golf Club in Boynton Beach, Fla, inched closer to that dream by toasting his challengers to earn a spot in Los Angeles next weekend.
He'll be easy to identify because the broadcast usually does that for us. And he chips one-handed. Golf Channel's Ryan Lavner documented the unusual swing and strategy yesterday, which opens up an incredible can of worms in the replies. By the sixth or seventh comment, a know-it-all will assure you that, actually, chipping one-handed is better than two-handed and the 99.999 percent of people who use both limbs are doing it wrong.
Truslow has participated in a few PGA Tour events previously and spent all of 2020 on the Korn Ferry tour.
Asked after his round about why the technique, Truslow said he originally started using the method as a drill to improve his chipping, but gradually he gained so much confidence in it, it became part of his game.
"I figured I needed to fix something or else I couldn't play at the top level," he said. "I slowly implemented it in play, then implemented in tournaments and it stuck.
"I'm hitting more shots with two hands these days, but I still have a lot of confidence with the one hand."
As a reminder, the winner of last year's U.S. Open, Matt Fitzpatrick, usually chips cross-handed. So we're trending in the direction of an Outback Steakhouse here where there are no rules, only what works. Hell, maybe next year a no-handed chipper can make the field.