Tyreek Hill's Peace Sign Should Have Been Flagged for Taunting. Thank God It Wasn't.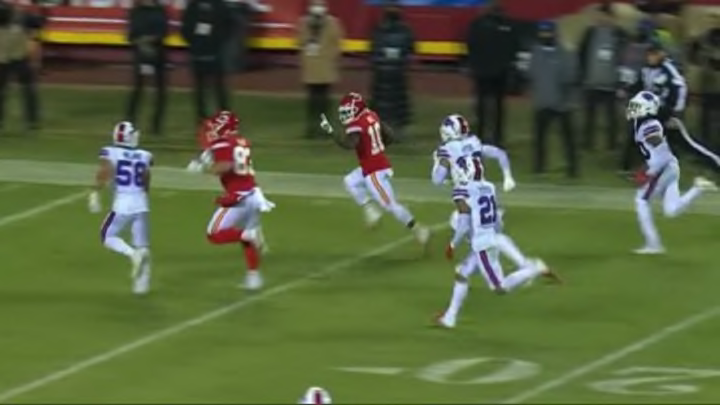 Tyreek Hill flashes the peace sign as he runs towards the end zone /
The Kansas City Chiefs beat the Buffalo Bills 42-36 in an overtime thriller in the divisional round Sunday night. It was undoubtedly the best game of the season and an instant classic. But it all could have been derailed by a call the officials decided not to make.
The Bills took a 29-26 lead with 1:54 remaining in the game after Josh Allen hit receiver Gabriel Davis for a 27-yard touchdown. The 4th-and-13 conversion -- that was delayed after a fan ran on the field -- looked to be a signature moment for a Buffalo franchise that has been searching for one. Unfortunately for residents of Queen City, Kansas City answered.
The Chiefs and Patrick Mahomes got the back back with 1:54 to go on their own 25-yard line and moved it out to the 36 after four plays. On 2nd-and-10 from the 36, Mahomes hit Tyreek Hill as he crossed the middle of the field. The speedy receiver managed to elude a tackler, then streaked untouched past the defense for a 64-yard touchdown, sending Arrowhead Stadium into mayhem.
As Hill ran past Bills linebacker Matt Milano, he flashed his usual "peace sign" at them in a "see you later" gesture. You can see it on the replay below.
Under the NFL's ridiculous taunting rules implemented this season, Hill should have been flagged for that gesture and the score should have been wiped from the board. The Chiefs should have been penalized 15 yards from where the taunt happened, which would have given them a first down at around the 30-yard line.
Thank God that didn't happen.
After Hill's bonkers streak to the end zone, the Bills got the ball back at their 25-yard line with 1:02 remaining. Allen took them all the way down the field in six plays and with 13 seconds left, he hit Davis for a 19-yard touchdown to give the Bills a 36-33 lead.
As we all know now, Mahomes then took the Chiefs 44 yards in 10 seconds, leaving kicker Harrison Butker with a 49-yard field goal attempt with three seconds left. He nailed it to send the game to overtime, where the Chiefs won when Mahomes hit Travis Kelce for an eight-yard touchdown pass.
It was a thrilling game, with two teams, each led by a stellar young quarterback, punching back at each other. I could have watched another three hours of it. If that action had been derailed by a ridiculous taunting penalty it would have been a horrible look for the league.
Should Hill have throw up the deuces at Milano? Probably not. But it was pretty entertaining to see and was certainly an in-the-moment decision. Hill isn't my favorite person in the NFL, but I get being caught up in a huge moment and doing something like that. And, again, it was entertaining. The NFL is nothing if not part of the entertainment business. Lessening that by penalizing that kind of stuff is awful.
Hill gained no competitive advantage by extending two fingers in a linebacker's direction during his Mach 5 sprint to the end zone. At that point we're just legislating potentially hurting someone's feelings. Which is so painfully dumb.
Wiping Hill's touchdown away would have led to a massive amount of backlash against the league and almost certainly would have robbed viewers of the incredible finish they got.
The real point of this is that the league needs to change the taunting rule. It's applied unevenly and only serves to anger fans and viewers.