Latest NFL Leads
Stefon Diggs, Security Guard Tackle Fan on Field During Chiefs-Bills Game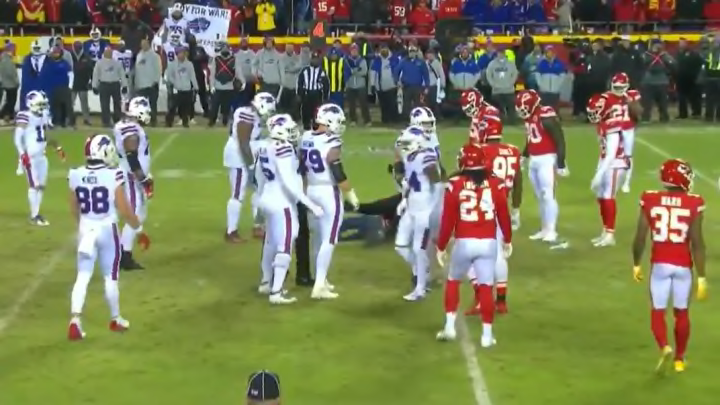 The Kansas City Chiefs and Buffalo Bills played a banger of an NFL playoff game Sunday night. At the height of a tense fourth quarter, a fan ran on the field, briefly delaying proceedings. A security guard made quick work of him though, layout of the fan with a brilliant tackle, but only after Stefon Diggs planted the guy.
The fan hit the grass just before Josh Allen and his Bills faced fourth and 13 from Kansas City's 27-yard line with two minutes to go. It was a moment of high drama and he tried to screw it up. Our hero security guard lit him up for his trouble after Diggs laid him out.
Here's video of the security guard getting his shot in:
We don't have video of Diggs taking the shot, but everyone was talking about it:
Allen and the Bills converted the fourth down after a pause, scoring a touchdown. Then things really popped off, as the teams traded touchdowns within the span of less than two minutes, before KC nailed a field goal as regulation expired.
Oh, and the fan? He's likely in jail somewhere.
UPDATE: We finally have video of Diggs taking out the fan.