Dolphins Fan Tries to Steal Touchdown Ball From Tyreek Hill's Mom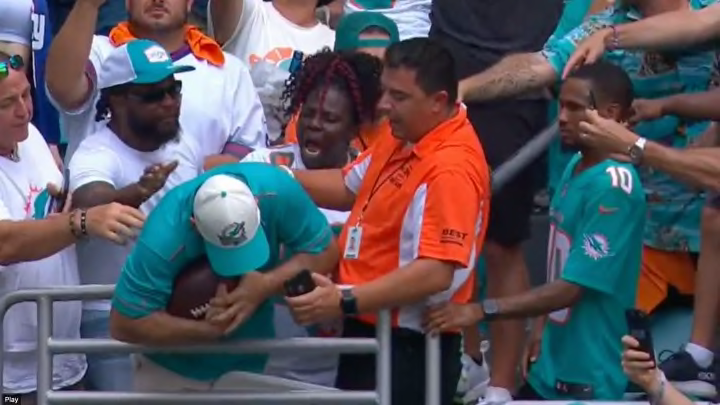 After a brief hiccup against the Buffalo Bills in Week 4, the Miami Dolphins were back to looking like the most potent offense in the NFL in Week 5 against the New York Giants. The unstoppable triumverate of Tua Tagovailoa, Tyreek Hill and De'Von Achane put up numbers early and often as the Dolphins jumped out to a 24-10 lead in the second half.
Tua and Hill hooked up for a 69-yard touchdown pass during the third quarter. To celebrate Hill ran over to the stands and tried to give the ball to his mother. Luckily, security was there because there was one Dolphins fan who does not care about potential family heirlooms. Despite Hill's insistence he get out of the way, the rogue fan stole the ball when the wide receiver tried to toss the ball to his mom.
To give the fan the benefit of the doubt, he probably didn't know the ball was intended for a close relative. And he did turn around and hand the ball over, which shows some maturity. Who really would have been surprised to see someone argue finders keepers in this stuation?
Hill continues to have issues celebrating touchdowns in the stands.