Tyreek Hill Nearly Lost the Football Climbing Into the Stands to Celebrate a Touchdown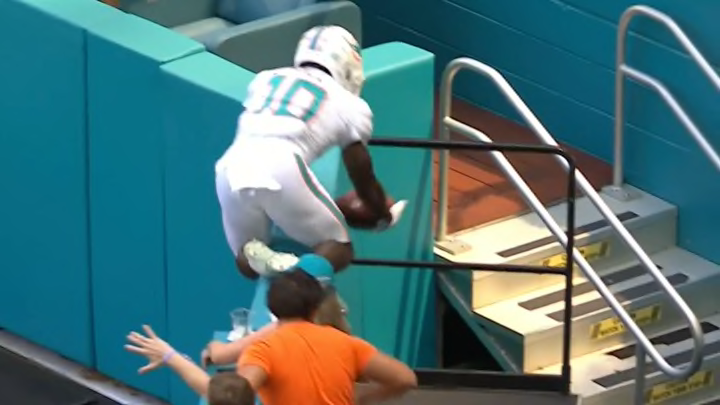 The Miami Dolphins got off to a fast start against the Denver Broncos in Week 3. Tua Tagovailoa and Tyreek Hill connected on a 54-yard touchdown pass on just the third play from scrimmage. Hill got wide open and Tua hit him in stride which meant the only defender between Hill and the end zone stood no chance. Given a 12-yard head start and the angle, he barely got a hand on Hill.
To celebrate Hill climbed up into the stands, nearly losing the football in the process, but since his hands are almost as good as his feet, he was able to recover the ball and then jump up and down while fans patted him on the helmet. What's the Miami version of the Lambeau Leap? The Hardrock Hang? Miami Gardens Party?
Hill came into the game fifth in catches and third in receiving yards. With three catches and 81 yards in the first quarter against the Broncos, he could be moving up in both categories by the end of the weekend. And thus, plenty of opportunities to give this celebration a locally flavored name.