NBC's Sunday Night Football Proves Tua Tagovailoa is the Next Dan Marino
What are we even looking at here?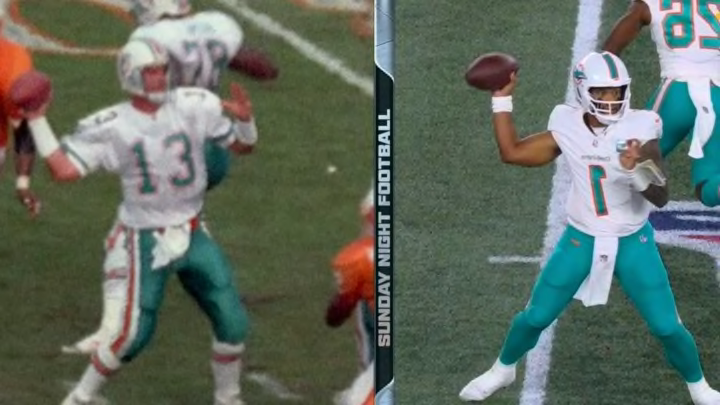 Tua Tagovailoa didn't throw for 466 yards again but he was certainly good enough to go into a hostile Foxborough in primetime and escape with an AFC East-leading 2-0 record. You'll read a lot of expert analysis about the somewhat polarizing southpaw this season but we can sum it all up quite succinctly. If he stays healthy and out of concussion protocol, the Miami Dolphins are going to be awesome. Mike McDaniel looks like he only stops vaping long enough to add a new pre-snap motion misdirection to the playbook and Tua seems perfectly in command of the situation.
The NBC broadcast compared him to Dan Marino — who was in the building last night — and people made jokes to the extent other outlets wrote blog posts about it. To illustrate this they allowed the privilege of seeing what Tagovailoa would look like if he threw righthanded.
We don't know what to tell you. They have very similar throwing motions. Cris Collinsworth is quick with high praise and aw-shucks enthusiasm yet he certainly wasn't saying the Dolphins' current signal-caller is the next Marino. Just that if you squint hard enough and take a big huff of whatever Charlie Kelly is huffing on, you can kind of see the similarities.
Here's the thing, though. You could probably do with any number of players because, honestly, that mirror effect short-circuits the brain a bit. Seeing Tagovailoa as a righty is just so weird and unfamiliar that a producer might be able to convince America he's got a bit of Johnny Manziel in his game. Or Doug Flutie. Or, hell, Jon Kitna.
Point is, there's a very real chance he turns out to be a lot like Marino and the best quarterback the franchise has had since Collinsworth himself was playing.