Tua Is Out There Throwing Right-Handed No-Look Shovel Passes For Touchdowns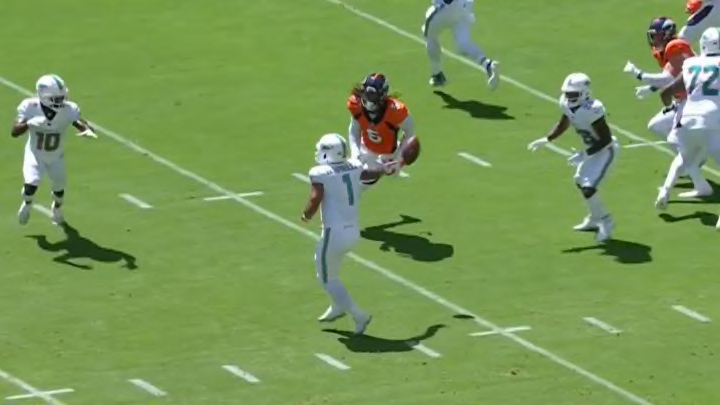 The Miami Dolphins offense was getting whatever they wanted against the Denver Broncos in Week 3. During the first half they scored on their first three posessions. First with a long pass to Tyreek Hill, then a De'Von Achane run and then a weird combination of the first two touchdown passes as Tua threw a no-look shovel pass to Achane who took it into the end zone.
That's a no-look shovel pass. With his right hand. Tua Tagovailoa and Mike McDaniel are in their shared bag, as the kids say. Tua started the game 12-for-12 for 155 yards and two touchdowns. A healty Tua is an absolute nightmare right now. Especially for a defense as bad as the Broncos. They stand no chance.
There's still some time left in this one, but if you want to look ahead the Dolphins have their toughest test of the early season next week as they take on the Bills. After that it's the Giants and Panthers before they get the Philadelphia Eagles on Sunday Night Football. That could be quite a game. Assuming Russell Wilson and the Broncos don't ruin it all by making an epic comeback or something. For now we appear safe.