Should Trevor Lawrence Be Rooting For the Jets or the Jaguars to Land the Top Pick?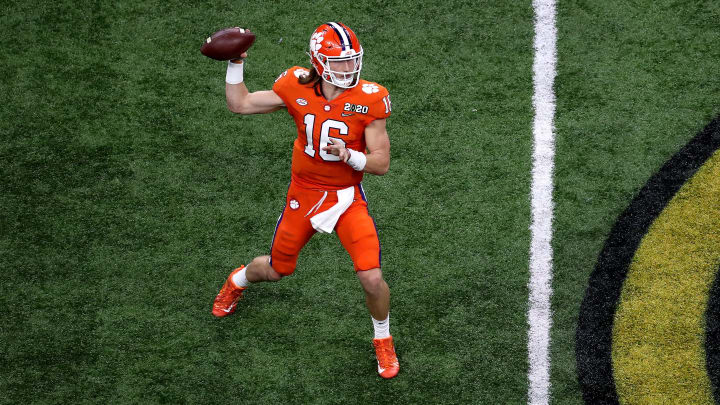 Trevor Lawrence, College Football Playoff National Championship - Clemson v LSU / Sean Gardner/Getty Images
Trevor Lawrence is almost universally regarded as the future No. 1 pick in the 2021 NFL Draft, so now it's just a matter of who will be getting that selections. The New York Jets and Jacksonville Jaguars have separated themselves in the chase for the top pick. So which team should the Clemson quarterback be rooting for to get it? Here's a breakdown of each franchise's current situation.
New York Jets
The Jets are now 0-12 after an embarrassing loss on Sunday and they sit pole position to land Lawrence. Head coach Adam Gase is almost certain to be fired, but it seems general manager Joe Douglas will be safe. Perhaps working in New York's favor is a lot of draft capital in place to build around Lawrence. The team owns extra first- and third-round picks in 2021 NFL Draft, plus an extra first- and an extra fourth-rounder in the 2022 draft thanks to the Jamal Adams trade.
After years of focusing on defense, the Jets finally began to invest in the offensive side of the ball during the 2020 draft, selecting offensive tackle Mekhi Becton and receiver Denzel Mims in the first two rounds. While the jury is still out on Mims, Becton has a look of a legit, long-term blindside protector if he stays healthy.
The Jets have failed to develop their last three drafted franchise quarterbacks (Mark Sanchez, Geno Smith and Sam Darnold), but if they nail their head coaching search things could change. If they find the right guy a turnaround could come quickly, especially with a top tier quarterback under center.
Lawrence is Tennessee native who great up in Georgia, and moving to the Northeast might cause some culture shock. But he'd be an immediate superstar in New York and could see incredible marketing opportunities in America's biggest TV market. There are certainly positives to that, though there would be an adjustment period.
The benefits of being in New York might outweigh the downsides of being on the Jets.
Jacksonville Jaguars
The Jaguars are 1-11 and still have a chance to get the top pick. While they're not as poorly constructed as the Jets, things in Jacksonville aren't great. General manager David Caldwell has been fired and head coach Doug Marrone shouldn't be far behind. It's a complete reset in Jacksonville, which could be appealing to a young quarterback, depending on who replaces both men.
Jacksonville does have some extra draft capital thanks to a few trades. The Jags have an extra first-rounder in 2021 due to the Jalen Ramsey trade and an extra second-rounder thanks to the Yannick Ngakoue deal. The problem is the Jaguars haven't been great at drafting offensive players.
Receiver Laviska Shenault was a second-rounder this year and his rookie season has been a mixed bag. The team's young tackle combination of Cam Robinson and Jawaan Taylor also rates as average. A bunch of new pieces are needed to fill out a weak roster, though undrafted rookie running back James Robinson looks like a huge steal.
It's also worth noting that while Jacksonville is in the South, a region Lawrence knows well, he'd likely be playing multiple home games in London in the future. So Jacksonville wouldn't exactly be the easy transition it would seem on the surface. The Jaguars also play in the NFL's fourth-smallest market and the 42nd-ranked TV market in the country. That's not great for branding purposes.
Perhaps another draw to Jacksonville would be the lack of a state income tax in the state. That makes a difference on the bottom line. So, like the Jets, there are some upsides to the area, while playing for the franchise looks unappealing.
Conclusion
Let's be real, neither one of these situations is ideal. Both franchises have serious drawbacks that make them incredibly unattractive. But Lawrence is almost certain to be playing for one of those two teams next season. He'll have to embrace the challenge of playing for a weak franchise no matter which one lands the top pick.