Keep Tom Brady the Hell Away from the Detroit Lions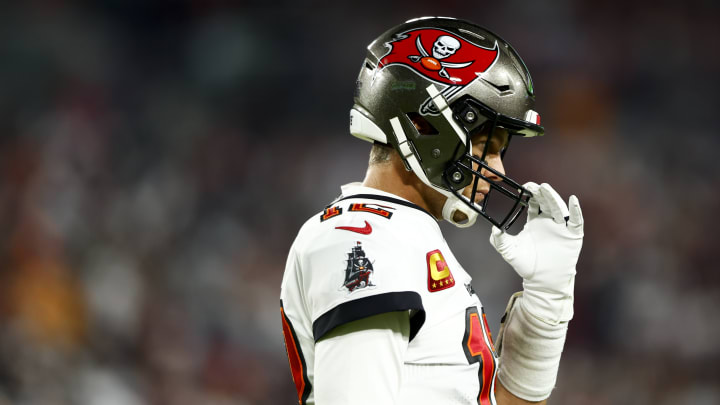 Kevin Sabitus/GettyImages
Tom Brady needs a place to play football next season because he still seems unwilling to face the real world. He has no shortage of options because he has seven Super Bowls to his name and is perfectly capable of being the starting quarterback on a competitive football team. In the absence of an update — and we shouldn't expect one anytime soon based on how salty he was when quizzed on his own podcast — speculation will grow. Once the inside-the-box ideas are exhausted, the out-of-the-box ones manifest. Pro Football Talk's Mike Florio threw one at the wall late last night and as an unbiased journalist, I absolutely hate it.
Brady to the Lions.
Wouldn't that be something? Tom Brady, back in Michigan. Tom Brady, with a Lions team that finished 2022 strong. A Lions team with an impressive nucleus of talented players. A Lions team that quarterback Jared Goff may be able to lead on a deep run in the postseason, but may not be able to take over the top.

Brady has shown he can do it. Seven times. And while he's 46, if the Lions want to finally make an appearance in the Super Bowl and possibly even win it, Brady could give them a better chance to do it than Goff.
Make no mistake, this is elite blogging. There's a reason why PFT has thrived. It's a masterclass. Doing its one job, which is to get people like me to discuss it with a strong opinion. All respect.
So here we go.
First, the whole Michigan thing. Brady went to Michigan but he's not a Michigan guy. He doesn't have roots here. He only returns when his team plays on the road in Detroit. The state as a whole does not identify him as a favored son. Living in the Motor City suburbs is a great life but it is decidedly not what Brady is after. Sure, the home games would take place in a dome, which he needs as a technician who needs perfect conditions but there are those pesky trips to Chicago and Green Bay to consider.
There is not and will not be a huge groundswell of support from Lions fans for bringing Brady into the fold. Jared Goff is flawed. He was also the highest-rated passer from Week 10 on. That's half the season. His ability to run Ben Johnson's top-notch offense has been proven. He may not be the ultimate answer. He also will not be replaced unless it's for a long-term option. Brady is decidedly not that. And are we absolutely sure that the team has a chance to win more and advance further with Touchdown Tom under center?
Florio dove into the off-the-field case for making such a surprising move.
Beyond football, there's a very real business element to wanting Brady. He'd sell every ticket to every game at Ford Field. The Lions also would end up with multiple prime-time games, along with multiple 4:25 p.m. ET contests. In recent years, those games draw even more viewers than games played at night.
Everything he says is true. And yet, who cares? There has never been more excitement for the Detroit Lions. Ever. If anyone is worried about empty seats at Ford Field next year, they can assuage those because, barring a terrible start, the place is going to be rocking. Detroit played 16 of their 17 games at 1 p.m. this past season and it was fine. What, exactly, would playing in the 4:25 p.m. window accomplish in real terms? It's cool if more people want to watch and enjoy the team but ultimately it has no bearing on anything. What fan would trade a 10-7 campaign in relative anonymity for a 7-10 year with ample national spotlights? Real sickos, that's who.
Finally, and this is the most important element of the case against Brady, there is no reason to upset the apple cart. Dan Campbell is building something. It looks like it's something real. Chemistry is impeccable. A culture is being built. Dramatically altering that for a short-term return that is equally likely to never come would be a tremendous act of self-sabotage.
At this point, all of this is nothing more than a dart thrown loosely in the direction of the board. But if the Lions get a phone call from someone on Brady's behalf in the coming weeks it shoudl be easy to say no. It makes all the sense on the world to say, "hell no."