Timberwolves' Big Season Off to Very Bad Start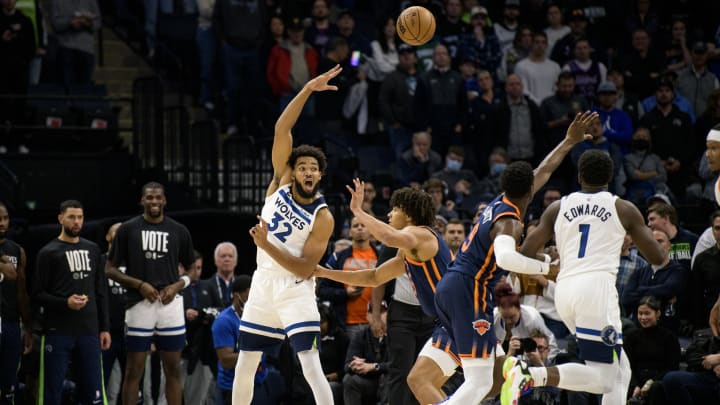 Wolves / Stephen Maturen/GettyImages
This season is very important for the Minnesota Timberwolves. They made a massive all-in bet on this core by trading five first-round picks for Rudy Gobert over the summer, deciding that Karl-Anthony Towns' ability to shoot will allow for him to co-exist with Gobert. After the most exciting playoff run in decades for Minnesota last year, it's not hard to see why the front office wanted to capitalize. Going after Gobert was and remains a controversial way to do so. So far, it seems like the doubters had some points.
The Wolves' season is off to a rather subpar start. They're 5-7 through the first three weeks of the year. They're 19th in offensive rating and 14th in defensive rating. Lineups containing Gobert and Towns boast a net rating of -1.8. Anthony Edwards is already taking plays off and complaining about how soft the team is and KAT is criticizing his diet. Things could certainly be going worse but so far the on-court product has shown deeper problems than the mere growing pains associated with bringing in a new starter.
Their struggles can be neatly summarized by last night's game against the Phoenix Suns, in which D'Angelo Russell made a mistake I have never seen anybody make on a professional basketball court.
And then Devin Booker mocked the Wolves' bench by boasting about his team's playstyle, which is a rather unique form of trash-talk.
It hits home because it is accurate, though. The Wolves have no idea how to play with each other. Which is really weird because the three primary ballhandlers on the team all meshed very well last year! Yet Gobert has proven to be a wrench in the gears that has thrown off all the carefully-laid plans of last season's playoff team.
It is, of course, a bit early to sound the klaxon alarm and declare the Gobert trade the worst transaction of the century. The Timberwolves are not dead yet. Not by a long shot. But it's hard to say things are going well when a max contract player somehow forgets to check in and forces his team to play 5-on-4.