Tim Bontemps: Zion Williamson Not the Kind of Player You Can Easily Build a Team Around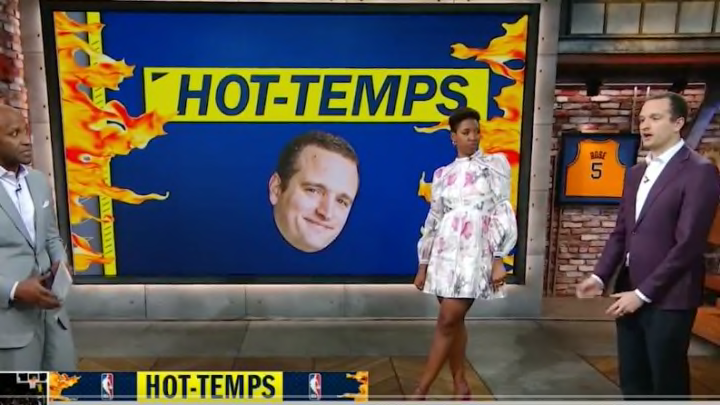 With the NBA postseason arriving, ESPN appears to be giving writer Tim Bontemps a little bump. Bontemps was back on Get Up on Wednesday and even got his own graphics package for a HOT-TEMPS bit where he hits viewers with some hot takes, like the Phoenix Suns should really try to win the NBA title this year.
Scorching. Of course, not all the HOT-TEMPS came during that segment. Earlier in the show Bontemps talked about Zion Williamson in a clip that was posted to Twitter by the official Get Up account, but deleted after about an hour. Apparently, this one was too hot.
"When Zion Williamson was drafted, he was supposed to be a generational prospect because he was going to be a combination of the guy he is offensively and Draymond Green defensively, right? When you saw him at Duke he was doing all kinds of things at the defensive end of the court. He has not really done that at any point in the NBA. You're talking about a guy who's a 6'5" center, who doesn't really shoot, who's, at best, a below-average defender. That's not a guy that you can easily build a team around. And that's before you get to the fact that he's not on the court."
There's a lot to react to here, but the one that seems to jump out to people is the Draymond Green comparison. The Big Lead did not recall this collectively, but a Google search turns up Pelicans' GM David Griffin making the comp after the team drafted Williamson in 2019.
"The thing about Zion, though, that excites us is, it's not that he's going to carry you offensively, it's that he's going to be able to facilitate offense. If you look at him as an extremely athletic Draymond Green type who may be able to facilitate all things for others and get out in transition and make plays … that's exciting. And because that's what he natively really does, we're not going to ask him to carry an undue burden (offensively)."
If it is to be said, so it be, so it is.
Anywho, this take seems pretty reductive of Zion, calling him a "6'5" center who doesn't really shoot." Williamson averaged 25.8 points per game in his career on 60 percent shooting. He's up to 7 rebounds, 4.6 assists, 1.1 steals and 0.6 blocks a game this season. When he plays he's basically unstoppable. Unfortunately, he's as injury-plagued as most people feared he would be when he was drafted. He actually seems very easy to build a team around. If he's healthy. Which he's not. Which sucks.
If you want to say it's foolish to build a team around Zion because of his injury problems, that's makes perfect sense. But this is absolutely a guy you wish you could build a team around.
There's just a lot of risk involved.