The Big Ten Should Just Do It and Be Legends By Playing Football Immediately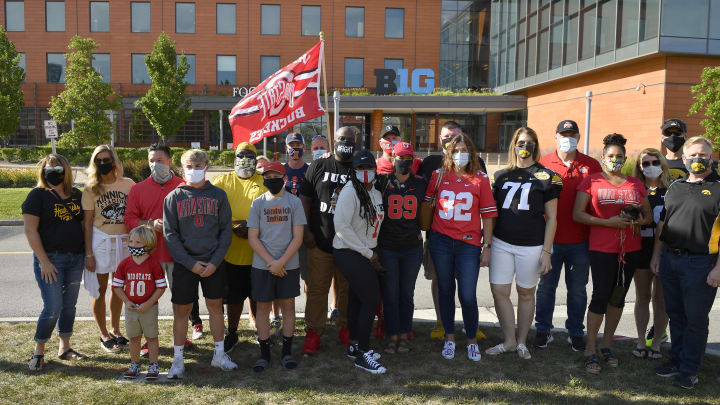 Nearly every Big Ten school was represented at this protest outside closed Big Ten offices. / Quinn Harris/Getty Images
It's late August. September is just a few days away. It is football season. So let's just play college football. Every day may not be Saturday, but tomorrow is so let's get the kids back on the field. COVID shouldn't be the only thing coming to your city tomorrow. Nearly dozens of parents from the Big Ten have spoken.
Forget what the nerds are saying. If we can get a thousand people together on the lawn of the White House for a big party, we can certainly pack college football stadiums and play college football like the brightest and sharpest minds say we should. They're doing it in other power conferences so the Big Ten might as well do it. Otherwise, we're opting INTO the pandemic. Here's Kansas Jayhawks' coach Les Miles, via USA TODAY:
""If they opt out because of the pandemic, then they opt into the pandemic," Miles said at a news conference. "The last I saw it, the pandemic was worldwide, OK? So I don't know what their advantage is to turn at this point away from what would be a good finish to a college career and opportunity to advance their abilities and then have a choice whether to go off to the NFL or to stay and compete. So we'd love to have them stay and compete.""
I had no idea that we could choose to opt OUT of the pandemic and I think all the other college football coaches and people who stand to make the most money with a full college football season would agree that opting out of the pandemic and into college football is the only path forward for our country right now.
I can't imagine college football coaches coming to any other conclusion than to play football, so let's go. Forget what the presidents of these institution have decided or what the guy in charge of the entire conference has said repeatedly. Why wait until January when you can play now? Forget this Thanksgiving crap. As long as we have a united front we should start immediately.
Open schools. Open football stadiums. Let's just do it. If the SEC and ACC and Big 12 can successfully and safely pull off a full football season then so can the Big Ten. That's why we file lawsuits. That's why the Pac 12 should reverse course too. Some of these schools are Nike schools. One of the divisions in the Big Ten is the Legends division.
I'm not sure how many more signs we need.