400 lb Taylor Swift Pumpkin Not What the Founding Fathers Had in Mind When They Invented Halloween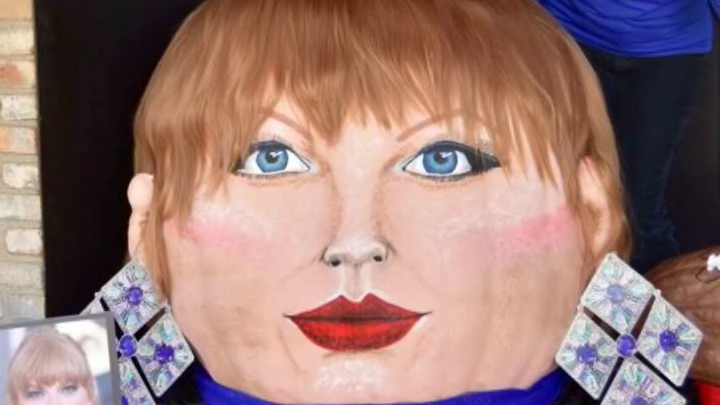 Taylor Swift has been in the news recently for a number of reasons. None of them were pumpkin related until now. Meet Jeanette Paras, an Ohio artist who has been creating celebrity pumpkins since 1988, about a year before Swift was born across state lines. Now, the same week that Swift has released 1989 (Taylor's Version), Paras has debuted her version of Taylor Swift as a 399-pound pumpkin.
What can be said about this pumpkin that hasn't already been said about the Eras Tour? It's huge. It's unlike anything you've ever experienced before. It can provide a vital boost to any economy on the planet. It's full of pumpkin seeds. OK, maybe that's it.
The Swift pumpkin comes with a nod to Travis Kelce as another pumpkin painted to look like a football sits atop a bucket with the numebr 87. Presumably put there by another Pumptrick Mahomes. Probably with a gourd-eous pass.
This really is something, isn't it? Once Swift finishes her international tour next year and re-records Reputation, she can work on some new music and there's really only one choice for an album title now.
Taylor Swift must call her next album "399 lb. Pumpkin" or we riot. No musician has ever had an easier choice. That title with a picture of the pumpkin and an album's worth of songs about Fall staples like Halloween and football. If she can write a song about a Christmas tree farm, she can certainly write a few about pumpkin patches, trick or treating and haunted houses.