Buffalo Bills, Taylor Swift Fans Both Furious About Turf Fields on Different Continents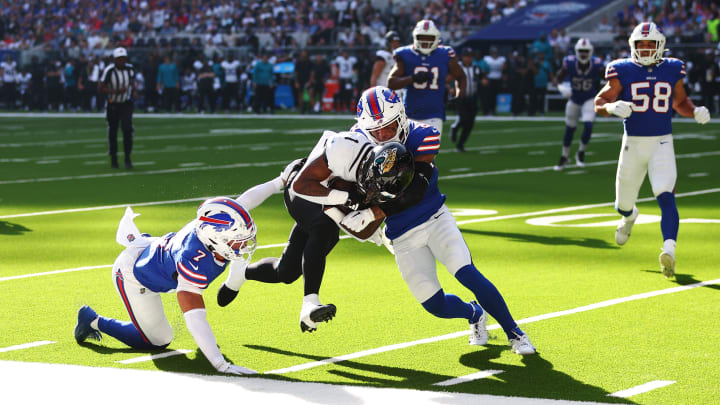 Jacksonville Jaguars v Buffalo Bills / Peter Nicholls/GettyImages
The Buffalo Bills traveled all the way to London to play a home game against the Jacksonville Jaguars, who basically live in England at this point. The Jags beat the Bills, 25-20, winning their second London game in two weeks. After the game the Bills sounded off on the turf they played on at Tottenham Hotspur Stadium. Cornerback Taron Johnson was particularly upset with the playing conditions, having suffered a lower leg injury during the game.
Johnson also had this to say according to the Buffalo News: "That (bleeping) turf, to be honest with you. The turf was terrible here. They have to get rid of it – report that. If we can do grass, we should do grass."
One of the Bills veterans also chimed in saying, "We came all the way over to London to play on (bleeping) cement?"
The weirdest part about all this is that the Spurs play on grass, but the stadium uses turf for football. In fact, Tottenham plays soccer on a retractable field which has an NFL-specific turf underneath. So this is literally a feature and not a bug. The plan all along was for American football players to use the turf. And it just comes off as sour grapes for the Bills to complain after a loss since the Jaguars had to play on the same turf.
Still, this is a big deal with football right now. NFL owners love turf while NFL players hate it. Even Taylor Swift fans got in on the anti-turf rhetoric this weekend when Travis Kelce hurt his ankle.
Turf is obviously a menace on every continent. We have the Bills fighting it in Europe and the Swifties taking on the NFL back in the states. If they could just form a united front then we could cover all of the playing surfaces with good, old fashioned natural grass.