Taylor Swift Fan Calls In Sick, Wears Blanket to Hide Identity During Local News Interview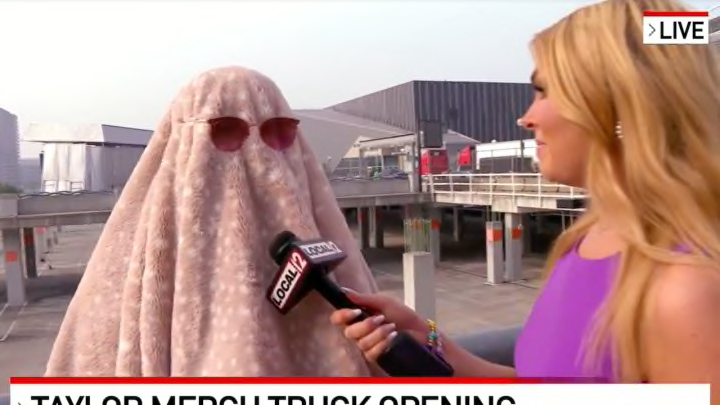 The Taylor Swift Eras Tour rolls into Cincinnati this weekend for two shows at Paycor Stadium, the home of the Cincinnati Bengals. While the first show isn't until Friday evening, the merch truck arrived on Thursday morning and there are hundreds - maybe thousands - of people waiting in line to buy shirts. Including two fans who skipped work, drove in from Louisville and then hid under blankets when the local news showed up. In the name of good journalism, Local 12 WKRC-TV's Annie Brown interviewed one of them on live television while the fan wore a blanket and sunglasses.
Apparently those people arrived to wai in line around 2am and they were not alone. All these people waiting in line to buy things that appear to mostly be available on Swift's website, but whatever. It just means more this way.
Now, if you're a boss in Louisville and you had someone call in sick today, just let it be. Do not go looking for proof one of your employees Ferris Bueller'd you. When she shows up to the office on Monday morning in her new gray quarter-zip looking like Swifty Jim Nantz, let it be.
Though if you do think this is a fireable offense, there are plenty of applicable lyrics that can be used in the meeting with human resources.