Everyone Was Confused By Tampa Bay Trying to Draw Buffalo Offside With Their Field Goal Team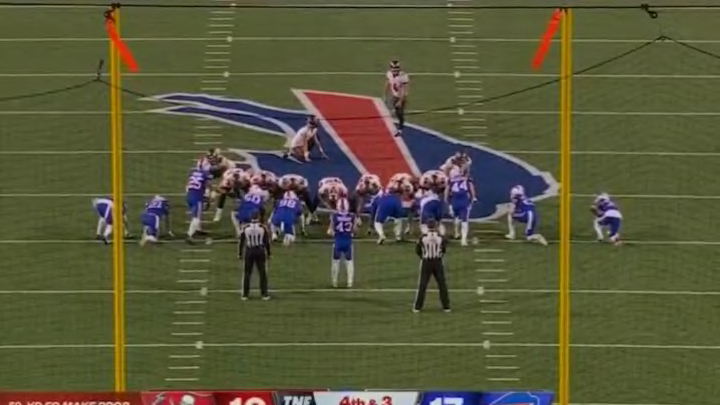 The Buffalo Bills and Tampa Bay Buccaneers kicked off the NFL's Week 8 on Amazon's Thursday Night Football. Facing a third-and-15 with less than a minute remaining in the first half, Baker Mayfield hit Cade Otton for 12 yards. The offense then hurried up to the line of scrimmage at Buffalo's 41 before running off to make way for the field goal unit. What happened next left everyone baffled.
First, the Bucs did not snap the ball. Al Michaels and Kirk Herbstreit noted that the center was not even touching the football, which made it unlikely the Bills would be drawn offside. So why were they out there? Why not leave Baker Mayfield out there to at least give the appearance they might do something?
Eventually, Dan Orlovsky wandered into the room and offered up a plausible explanation for what happened. Maybe they had a fake field goal that they decided not to run because they didn't like what the defense was showing them.
That's certainly a much more generous reading of the situation than Todd Bowles doesn't know what he's doing. Perhaps we'll get an answer after the game. Or perhaps we will never know. This could just be one of life's great unsolved mysteries.