Al Michaels Had No Idea This Buccaneers Field Goal Attempt Was Blocked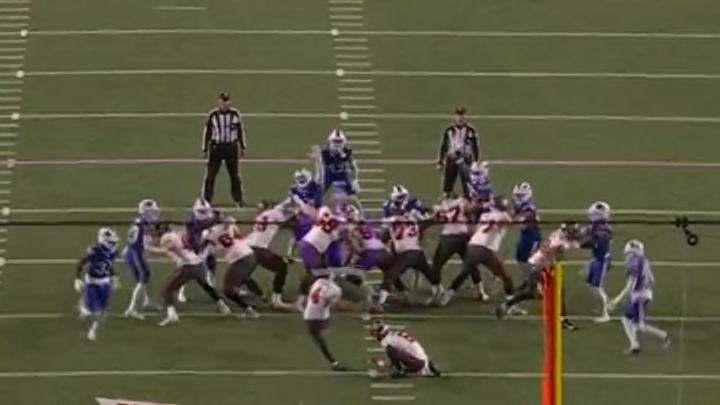 Al Michaels and Kirk Herbstreit are struggling through what appears to be another substandard game the NFL has handed to Amazon on Thursday night. The Buffalo Bills and Tampa Bay Buccaneers aren't exactly lighting the world on fire, as they combined to score a whole three points in the opening quarter. Things were so bad, Michaels didn't have any idea the Bills had blocked a Buccaneers' field goal attempt late in the opening quarter.
The attempt came with 4:26 left in the first, as Tampa faced fourth-and-2 and opted to line up for a 50-yard field goal. Chase McLaughlin's attempt sailed harmlessly to the left and actually bounced in the end zone. Anyone watching could have seen that Shaq Lawson got a paw on the ball and had blocked it. No one bothered to tell Michaels, who tossed to commercial implying McLaughlin had shanked it.
Video below:
The sad part is, that was actually a fun play in a game utterly bereft of them. Michaels has complained about how "dreadful" the Thursday night games have been -- and he's right -- but this was a chance for a bit of excitement, and he missed it. I don't blame Michaels, his spotters and producers should have informed him immediately.