Stugotz Has a Warning For Travis Kelce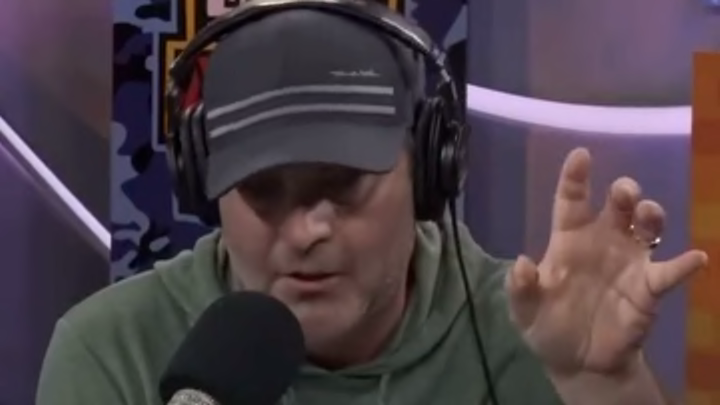 Travis Kelce did not have a good game last night as the Kansas City Chiefs gave the Philadelphia Eagles far too many chances on Monday Night Football and eventually got burned. The All-American tight end was not immune to the widespread case of drops that's been working its way through all the Chiefs' skill position players and fumbled the football away at an inopportune time. Andy Reid looked confused by everything Kelce was doing out there and the conversation has continued today, with Stugotz taking the opportunity to send a message.
"He's a friend of mine and I am telling you right now, it's about to happen," he said. "They lose more games, okay? He has a drop, he has a big fumble in that game last night, big turnover. Chiefs fans are going to start doubting Travis Kelce. If they lose a couple of more games they're going to start to say that Travis Kelce is not as focused as he's been in years past. He's more focused on his relationship with Taylor Swift. He is more focused on doing his podcast with Jason Kelce."
After a slight diversion to point out that broadcasts are now showing more center highlights than ever before, Stugotz reiterated that this was coming down the pike whether Travis is ready for it or not.
And I think it's somewhat true. Chiefs fans who have been able to enjoy Kelce's entire Hall of Fame career and two Super Bowl parades seem better than turning on him just because he's in a celebrity relationship. But it may be different in the sphere of the general public. Kelce is a wonderfully accomplished player and sports fans have a vault of memories in which he was excellent. They know he's a winner. To someone who only knows him as Swift's boyfriend, it's different. You can guarantee that there will be precious little contextualization if the tight end is the reason — somehow someway — Kansas City gets eliminated short of the Super Bowl.
The discourse is going to be absolutely brutal if Kelce goes from a GOAT to a goat, which can happen to anyone in sports. One thing I feel confident in saying is a not a strength of the current media ecosystem is nuance and the allure of getting clicks off the back of this relationship is almost impossible to ignrore. We could be looking at a very, very strange few days in January if the Chiefs continue to underwhelm and their go-to target looks strangely human.
Prepare accordingly. Because obviously the right thing to do is to say that the entire idea of an unfocused Kelce is patently absurd. He's been, on the whole, excellent this season. It was just one bad game and thankfully it didn't come with mammoth stakes. Clearer heads will prevail this time but not the next.