Andy Reid Was Very Confused About What Travis Kelce Was Doing Out There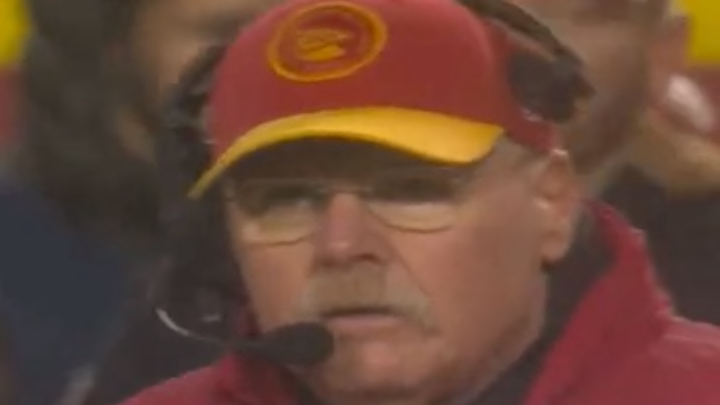 Travis Kelce visited the Monday Night Countdown set before the Kansas City Chiefs-Philadelphia Eagles game to give bro hugs and inform the world that he is him. Once the action began he did not perform to his typical high standard, fumbling away a key late possession and dropping a pass when Patrick Mahomes was desperate to find any pair of hands capable of holding onto a football.
Even though Kelce is a future Hall of Famer, it's sports and even the best athletes have the occasional off game. Good luck trying to quell the rhetoric, though, as he happens to also be dating one of the most famous women on the planet and everything gets shoved into the steam engine of content.
It's probably not anything for the Chiefs to worry about (if they'd like to worry about something may I suggest the stone-hand disease that seems to have affected every receiver on the roster) going forward but it was still weird to see an All-Everything player come up so small in the biggest moment of his season so far.
Andy Reid was as helpless as anyone else stationed over on the KC sidelines and at one point the MNF broadcast caught him trying to fix his tight end while channeling a disappointed dad who coaches his son's team.
Anytime you get the full name, that's trouble. The little Reid sneer is tough to see too. At least brighter days are surely on the horizon, because it seems like it couldn't get much worse.