Latest Roundup Leads
Roundup: Stephen Curry CAN Shoot; Kendall Jenner Parodied on 'The Boys'; Should the White Sox Fire Tony La Russa?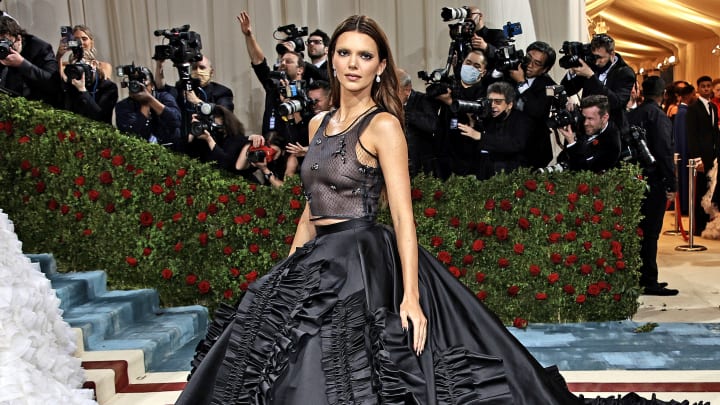 Kendall Jenner, The 2022 Met Gala Celebrating "In America: An Anthology of Fashion" - Arrivals / Dimitrios Kambouris/GettyImages
Geico must pay $5.2 million to woman who got HPV from sex in man's insured car, court rules ... In praise of vintage snacks ... Five-star QB CJ Carr, grandson of Lloyd Carr, commits to Notre Dame over Michigan ... U.S. buys more monkeypox vaccines ... Gas prices continue to rise ... U.S. dropping COVID requirements for international travelers ... Stocks tumble after key inflation report ... A review of "Corner Office" ... "The Boys" renewed for Season 4 ... Kendall Jenner's Pepsi Ad parodied on "The Boys" ... Chargers owner Dean Spanos sued by sister ... Cincinnati, Houston, UCF to join Big 12 in 2023 ... Jack Del Rio fined for downplaying Jan. 6 riot ... Hunter Renfrow, Raiders agree to $32 million extension ... Stephen Curry was brilliant as the Warriors evened the NBA Finals ...
Latest 2022 NBA mock draft [CBS Sports]

The White Sox need to fire Tony La Russa now [Yahoo Sports]

Revisiting the 2020 NFL Draft [The Athletic]

Why For All Mankind is TV's next great drama [The Ringer]

Draymond Green's mother and coach were both unimpressed during Game 4. [The Big Lead]

Stephen A. Smith recalls Skip Bayless begging him to join 'First Take.' [New York Post]
Now for some Stephen Curry appreciation.
People are asking...
The Weeknd -- "Can't Feel My Face"