Stephen A. Smith Maintains Nets Should Have Hired Ime Udoka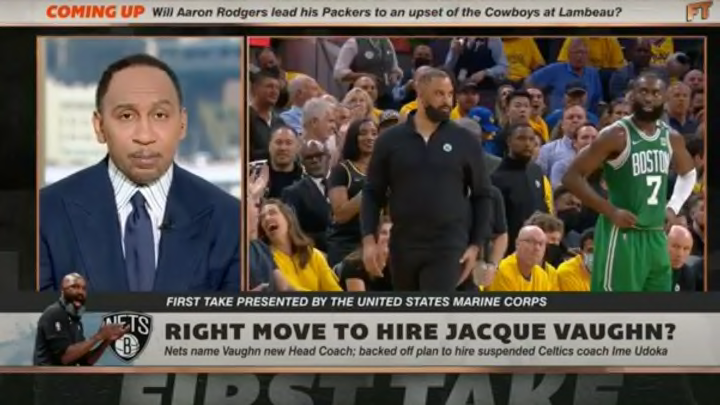 Stephen A. Smith /
The Brooklyn Nets won their first game under Jacque Vaughn last night, taking down the New York Knicks 112-85. It was the first truly dominant game the roster has put together this season and a cool moment for Vaughn, who had the interim label removed from his job title earlier in the day. The Nets' announcement that Vaughn would be the head coach for the rest of the season also put an end to any Ime Udoka speculation.
We'll remember this as a fairly weird moment in NBA history because Shams Charania and Adrian Wojnarowski both said Udoka to the Nets was basically a done deal within hours of Steve Nash's dismissal. Then Kyrie Irving was in the news for antisemitism and got suspended and suddenly Vaughn got named head coach. It seems pretty clear that, at the very least, Brooklyn decided they'd had enough controversy and stuck with Vaughn instead of inviting the firestorm that would have come with Udoka.
Stephen A. Smith still thinks the Nets should have hired Udoka. He expressed that opinion on First Take on Thursday, arguing that a coach of Udoka's caliber is very rarely available so passing on him is a mistake. Smith did not really talk about why Udoka was available, which is obviously the core of the problem here.
It's awfully difficult to have this conversation without dipping at least a toe into the waters of Udoka's transgressions. Yet all Smith says is that the suspended coach is going through "self-inflicted" drama. Which is true yet undersells how bad said transgressions must've been if the Celtics were willing to suspend him for a year after he broke through to the Finals as a rookie head coach. And, as always, it remains really easy to say the Nets should have hired him without knowing any of the fine details of the situation.
It appears that whatever ends up happening with Udoka, he'll have a defender in Stephen A. Smith.