Stephen A. Smith Wants Kyrie Irving to Get Cut, Is Sickened By Disgraceful Brooklyn Nets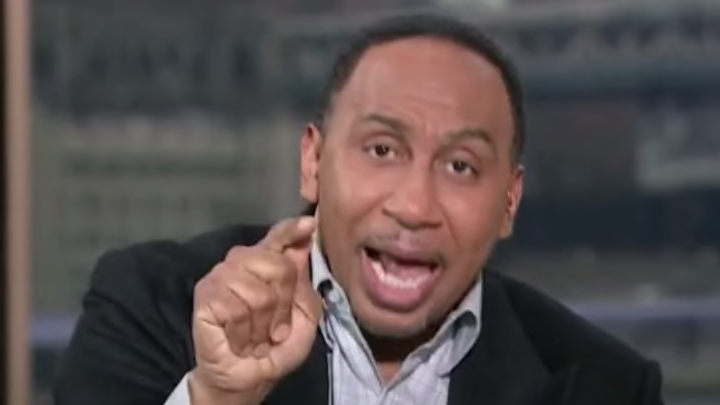 The Golden State Warriors came into Brooklyn and clowned the Nets last night. Stephen Curry laced up his sneakers and delighted in draining nine three-pointers in the blowout. Kyrie Irving was, once again, not present due to Reasons. A growing conversation about Kevin Durant having buyer's remorse in the running mate department grew a bit louder because how could it not? One elite guard is slightly less complicated and mercurial than the other. One elite guard is always available while the other can be off on a personal vision quest at any given moment.
Contextualizing athletes in a more dynamic backdrop of mental health and citizenship is difficult. A fair person should be patient, understanding and open-minded until a player starts actively hurting their team. Through that lens, it certainly seems that Irving is doing an equal amount of harm as he is doing good for Steve Nash, Durant and the rest of his Brooklyn teammates. So the door for criticism is wide enough even for the careful to walk through.
Stephen A. Smith, as he's wont to do, dispensed with any tip-toeing on this morning's First Take, aiming a flamethrower in Irving's direction, priming the pump, and unleashing holy hell like a Third-Act Arnold Schwarzenegger.
"I actually hope Kyrie Irving gets cut," Smith said in what is apparently his inside voice. "I mean, this is a disgrace." Smith correctly points out that every respectable team has waxed the Nets' backsides, which honestly sounds a bit kinky.
He said some other stuff too with great passion because he's the most dynamic and energetic sports pundit of the century and this is just a typical Wednesday. What a talent.
Call us crazy but we're not exactly feverishly refreshing the NBA transaction page waiting for Irving to be cut. There are still 67 regular-season games to be played before the real meaningful stuff happens. Most people would be wise to pace themselves but Smith is uniquely suited to keep this fever going forever.