Stephen A. Smith: Celtics Should Have Kept Year-Long Suspension Quiet Because It's None of Our Business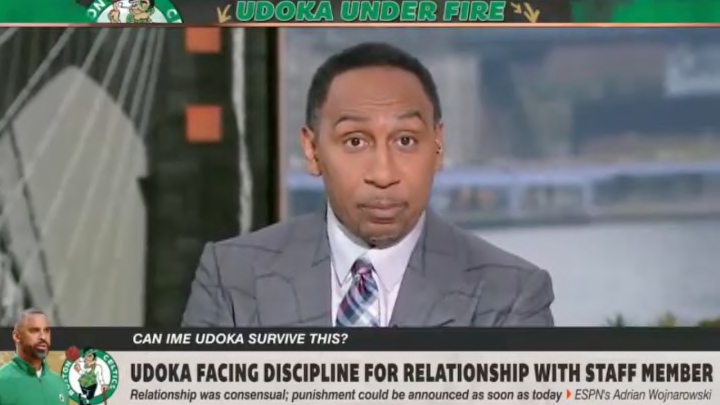 Boston Celtics head coach Ime Udoka is facing a long suspension because of an improper intimate and consensual relationship with a female member of the team staff. Both Shams Charania and Adrian Wojnarowski have been on the news since last night, but we currently have no real details about why the suspension is so severe. Just because we don't have details doesn't mean people aren't having very strong reactions to the news, no matter how little anyone knows.
On First Take Stephen A. Smith was very fired up, but moreso about how everyone was reacting to it.
"I got news for you America. There are plenty of white folks in professional sports that's doing their thing. And I say that not complimentary. I don't see the information out about them. Why we talking about this now? We got to talk about it because it's the news. Ain't none of our damn business. Unless you fire him! But if you keep him, it's none of our business. It shoulda never been put out there by the Celtics organization. And don't tell me you didn't do it because you absolutely did it. Because news reporters got it. So it emanated out of Boston. Somebody ain't in LA or Utah or something leaking the stuff about the Boston Celtics. This is on ya'll. It shouldn't have been out here. That's what I have to say."
Smith seems to be making two points here. The first, that white people are doing similar things without anyone noticing, may be true but if anyone has any stories about white coaches in improper relationships I think the public would be just as interested. For example, Bobby Petrino was fired by Arkansas because of an inappropriate relationship back in 2012.
The second is that this is none of our business because he wasn't fired. It doesn't seem like the media would make it very far into training camp before they started asking where the head coach was. Eventually, the Celtics would be asked to explain his absence. And Udoka would probably be questioned about where he was when he showed up again a year from now.
Expect the takes to only grow in intensity from here.