Stephen A. Smith Calls Colorado's Loss to Stanford 'An Absolute Disgrace'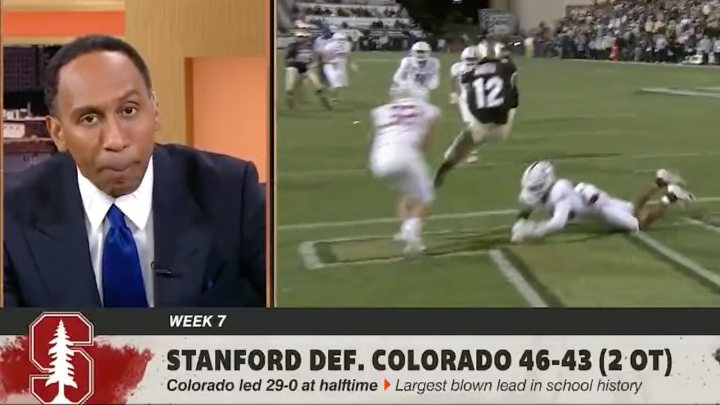 Stephen A. Smith /
The Deion Sanders hype train derailed again over the weekend as Colorado blew a 29-point lead to Stanford in the second half on Friday evening and eventually lost, 46-43. For all the positive attention Sanders has brought to the Buffaloes he now also owns the ignominious record of the biggest blown lead in school history. The fact that Colorado isn't a national powerhouse isn't surprising to anybody who understands that it's impossible to find instant success at the college level, but the Stanford game was an undeniably bad loss that should (in theory) force Sanders' supporters to enter the waters of criticism.
Stephen A. Smith was willing to do so on Monday's edition of Get Up as he labeled the loss an "absolute disgrace."
I mean, yeah, it wasn't great. The beauty of amateur sports is that truly anything can happen and Sanders can only do so much from the sideline, but 29 points!
Maybe this is the wake-up call the general public needed that Colorado may be fun to talk about but they simply are not a good football team. The roster is very top-heavy to the point that Sanders felt the need to play Travis Hunter over 100 snaps in his first game back from a lacerated kidney. And, ultimately, not even Prime Time magic can prevent a college football team from playing like a college football team in the bad ways sometimes.
Anybody who was sick of every media network falling over each other to crown Sanders as the king of college sports is probably having a good time right now. But this year, Colorado feels like the sort of phenomena where negative coverage won't be a draw. The program hasn't been relevant long enough for people to relish hating them, so the producers will probably just leave them off entirely if the team's downward trajectory continues.
In other words, those hoping the talking heads will have to eat their words in front of a large audience shouldn't get too excited yet.