Stephen A. Smith: Celtics Didn't Fire Ime Udoka to Prevent Him From Going to the Nets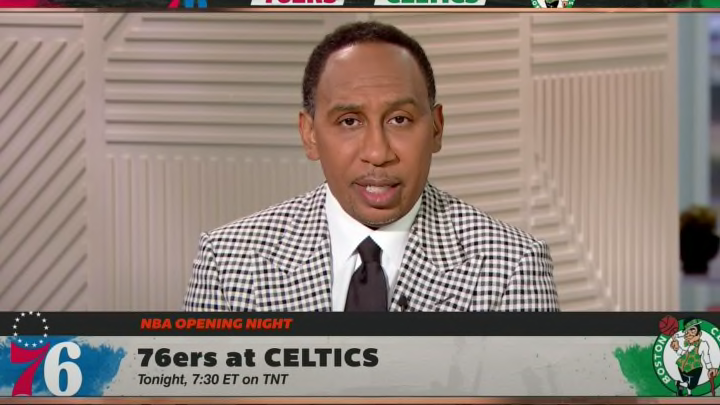 Stephen A. Smith /
The Boston Celtics will kick off the 2022-23 NBA season tonight against the Philadelphia 76ers with Joe Mazzulla at the helm. Ime Udoka's yearlong suspension will have officially begun. The dust has mostly settled after the stunning news broke last month but there is still an air of mystery around exactly what happened and, more pertinently, why Boston didn't just fire him.
Whatever he did was clearly unacceptable to the Celtics and it is nearly impossible to imagine a universe in which he comes back this time next year like nothing ever happened. The best guess we've got is that Udoka's actions may not have been enough to qualify as firing for cause, which would've put the franchise on the hook for the rest of his guaranteed money in his contract, but there is no way to confirm that without knowing exactly what went down. And we will probably never know that.
Stephen A. Smith, at the forefront of the whole debacle for a variety of reasons, had his own idea as to why Boston handed down a suspension and not a fine. He explained it today on First Take: the Celtics knew if they fired Udoka, he would've ended up in Brooklyn with the Nets, which would create a big problem for their championship hopes.
Now, it is unclear what type of report this is. Smith had previously reported information from his sources on the situation, so he clearly has a line on info that he is comfortable sharing with the audience. He says prior to the above segment that he has "news" that he hadn't said elsewhere other than his podcast, but then kicked off the report by saying "I believe" so it isn't the sort of concrete report we'd expect from an insider. It might be Smith expressing his opinion, it might be him expressing his opinion with insider knowledge that he won't say outright, or something in between.
With that out of the way, it could line up. Udoka's transgressions were enough for the Celtics to bring the hammer down but wouldn't make him untouchable. All teams across all sports have proven a willingness to take chances on guys with not-so-great pasts. It would be surprising for the Nets to fire Steve Nash on the eve of the season but crazier things have happened. And the Nets with Udoka on the sideline would be formidable indeed.
On the other hand, the Celtics have made it clear throughout the process that their championship hopes are not the first priority in regards to Udoka's situation. If that were not true, they would've figured out any other way to punish him without forcing him to miss time. It would be surprising given that forward-facing stance if the Nets played any role in the calculus.
Still, it's one of the few logical explanations as to why Udoka was suspended instead of fired. So it must be considered.