Latest NFL Leads
Steelers Fans Have Taken Over SoFi Stadium Against the Chargers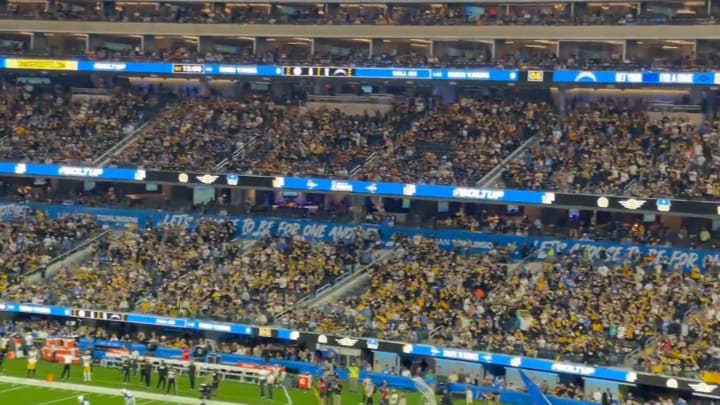 Steelers fans pack SoFi Stadium for game against the Los Angeles Chargers /
Everyone knows Pittsburgh Steelers fans travel well, but that seems to be even more true whenever they play the Los Angeles Chargers. Steelers fans took over the Chargers' soccer stadium home back in 2019 and it's happening again Sunday night.
Steelers fans have poured into LA this weekend and they clearly had no issue getting tickets to the game. It sounded like a home game for the Black and Yellow. Pittsburgh Post-Gazette beat writer Ray Fittipaldo estimated it was 80-20 Steelers fans. Al Michaels claimed it was about 65 percent Steelers fans.
Here's some shots of what the crowd looked like:
This is the Chargers' first season allowing fans in the $5 billion stadium Stan Kroenke built for them. There should be excitement about the facility and fans should be willing to pay to see it. The novelty hasn't worn off yet. They have a good roster and an exiting young quarterback in Justin Herbert and this is a big Sunday night matchup. Despite that, the Chargers can't sell more tickets to their fans than their opponents. That's not a recipe for sustainable NFL success.
It's pretty hilarious that's still happening in their fifth season in LA.