Terrible Fake Field Goal by Steelers Ends With Kicker Getting Hurt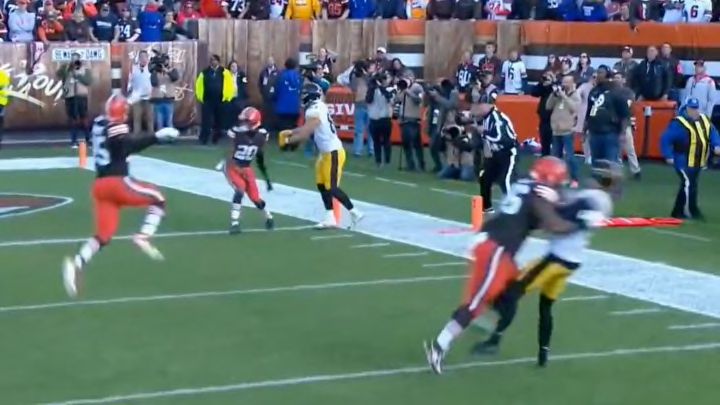 Poor Chris Boswell /
The Pittsburgh Steelers had a very important divisional matchup with the Cleveland Browns on Sunday afternoon. Ben Roethlisberger is still very bad, but the Browns are perhaps the most injured team in the NFL and Baker Mayfield is out there trying to win with a completely torn labrum. With Pittsburgh sitting in last place in the AFC North at 3-3, it would not be an exaggeration to call this a must-win game.
Which is why Mike Tomlin's decision-making in the second quarter is so head-scratching. The Steelers were looking at a third-and-17 in the red zone. Tomlin ran the ball for eight yards, which is a conservative yet defensible playcall.
But then, Tomlin called a fake field goal. A fake field goal that required kicker Chris Boswell to roll out of the pocket with only two receiving options. It ended in an incomplete pass, a turnover on downs, and an injured Boswell, who took a huge shot from a defensive lineman three times his size.
It truly could not have gone any worse. Not only did the Steelers leave with zero points after having the ball inside Cleveland's 15-yard line, they managed to get their kicker annihilated in the process. There probably should've been an illegal hit to the head on the play, but even putting your kicker in that position is football malpractice.
Boswell walked into the locker room after the hit with the team's neurosurgeon and will presumably undergo concussion protocol. If Pittsburgh loses their kicker due to a failed fake field goal... It can't get much worse.
UPDATE: Boswell has been ruled out with a concussion. The Steelers will have to try and win this game without him.