Three Quarterbacks Steelers Should Sign to Compete With Ben Roethlisberger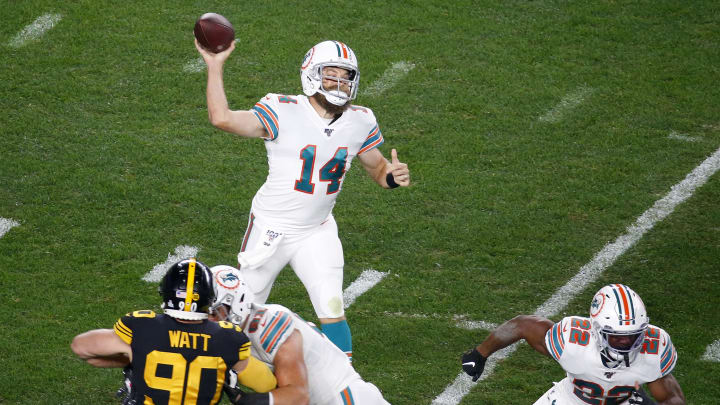 Ryan Fitzpatrick / Justin K. Aller/Getty Images
The Pittsburgh Steelers and Ben Roethlisberger are working together to take the steps required for Roethlisberger to suit up again this year. When Big Ben expressed his desire to return, Steelers management balked because of Roethlisberger's enormous cap hit and they made it clear some kind of restructuring was needed. The two sides met on Tuesday to further those discussions and owner Art Rooney released a statement on Wednesday morning to confirm that yes, this meeting happened, and made it abundantly clear that contract talks still needed to be held.
It's growing more and more likely by the day that Roethlisberger will once again be in Steelers black and yellow come September 2021, even if his paychecks each week are going to look different. That's good news for the legions of Steelers faithful who would die for this man, but it may not be the best news for the football team because Roethlisberger wasn't very good last year. Even with the team's scorching 11-0 start, it was clear that his arm strength had waned to detrimental levels and he was closer to a below-average starter than even an average one.
So with all that in mind, the Steelers need to bring in someone else this offseason. Another quarterback, to be specific. Someone to compete with Roethlisberger in training camp and who will be a reliable option off the bench if Roethlisberger's deterioration continues. That's a tough balance to strike. They aren't going to go out and sign the best quarterback possible because Roethlisberger is (presumably) going to give up some money to come and play again. If he did that and then they use the space his money freed up to sign a player with a good chance of unseating Roethlisberger from his starting spot, that will not sit well with their franchise quarterback.
Worrying about that is probably for naught, though, because any QB expected to be better than Roethlisberger will probably price themselves out of the Steelers' range. All the team really needs is a game-manager who won't make any back-breaking mistakes and will let the defense win games. Here are three options for Pittsburgh to consider for a better backup quarterback/potential starter than Mason Rudolph or Dwayne Haskins.
Ryan Fitzpatrick
You know it. We need Fitzmagic in the Steel City, baby. Fitzpatrick has suited up for eight different NFL teams and the Steelers should be the ninth. Everyone's favorite Harvard quarterback would be exactly what Pittsburgh is looking for: a player who can hold down the fort if Roethlisberger gets hurt or his play further tumbles off the cliff it's rapidly heading towards, while being just good enough to give the team a chance to win if he does end up running the offense.
The one hold-up would be connected to Fitzpatrick's desire to head north. He's 38-years-old and just spent two wonderful years in the warmth of Miami in perhaps the lowest-pressure situation in the NFL. It would be very cold in Pittsburgh and the pressure would be on if they needed him to step in. If Fitzpatrick decides he wants one last chance for a Super Bowl run, though, the Steelers are his team.
Jacoby Brissett
I have nothing substantial to back this up, but I feel like Jacoby Brissett is what the Steelers were hoping Joshua Dobbs would be. A smart, big quarterback with some mobility and an ability to make the right read at the right time, even if the arm strength leaves something to be desired. Dobbs never panned out in that way, but Brissett certainly did. He spent last year riding the pine behind Philip Rivers and is probably looking for a new opportunity now that the Colts have thrown all their weight behind Carson Wentz.
Brissett wouldn't be too expensive and has a fairly high base level of play for someone in his position if his 2019 season was any indication. It's not the most exciting name to bring in, but the combination of price and competency is exactly what the Steelers are looking for.
Jameis Winston
Famous Jameis has long felt like the only natural successor to Roethlisberger as a tank of a quarterback with a huge arm and questionable decision-making skills. The last time he started he broke records by throwing for 5,000 yards and 30 touchdowns along with 30 interceptions. He spent last season under the tutelage of Sean Payton. Maybe he's better now! And maybe he's not, but he has the highest ceiling by far out of any of the free agent QBs the Steelers can afford.
The real trick will be convincing Winston to come to Pittsburgh. He could potentially solve the team's long-term QB problem if he steadies out his play a bit, but the Steelers won't guarantee him a starting spot in 2021. If they wanted Winston that bad they wouldn't be doing this whole song and dance with Big Ben. Winston would have to willingly sign up for the likely possibility of spending 2021 on the sideline again, and that's a tough sell. But if it can be made, then Winston feels right for the Steelers.