Skip Bayless Wrote 'Extremely Controversial' Screenplay Starring Lil' Wayne During 'Undisputed' Hiatus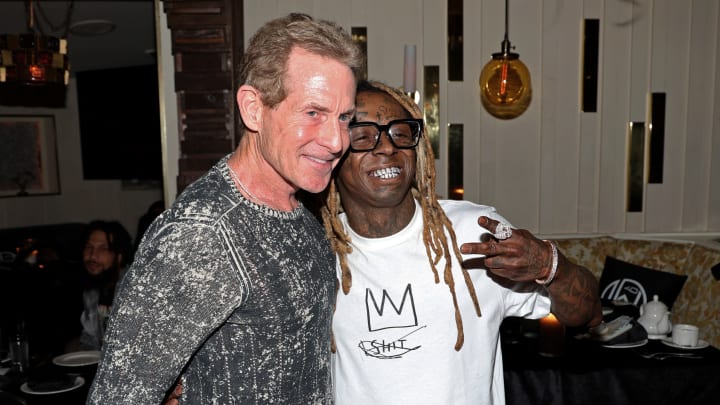 Lil Wayne 40th Birthday / Jerritt Clark/GettyImages
Skip Bayless pretty much disappeared when Undisputed went off air this summer after Shannon Sharpe's departure. He was still tweeting and recording episodes of his eponymous podcast but otherwise the Fox Sports host laid low. We assumed this was because he was putting in overtime trying to figure out who would replace Sharpe across from him and how the new show would compare to its counterparts around the hot take industry. That assumption is probably still correct to an extent, but it happens that Bayless had a side project-- writing a screenplay, starring Lil' Wayne.
It has proven difficult to find when Bayless first mentioned this screenplay, but two weeks ago he provided an update during his podcast and revealed that he had finished the work, titled "Savior."
"This screenplay, entitled 'Savior' is the second thing that I love, maybe to a fault. The weirdest thing about this screenplay is that I can't really remember writing it because it wrote itself in under a month... You can scoff at this but I just felt powered by a higher power. I just wrote feverishly. For once I really like and believe in everything about this screenplay, this creation of mine. I believe in the structure of it, I believe in the characters and their development, I believe in the dialogue, I believe in the action. And it is filled with some shocking action... In the end I believe in its controversy because it is extremely, extremely controversial. I have no idea if I could get this movie made because it is so deeply controversial on so many levels that I'm not yet comfortable divulging."
Then, on Wednesday, Bayless mentioned the screenplay in an interview with People and appeared to reveal that Lil' Wayne would star in it:
PEOPLE: You've both accomplished so much. Anything still on your list of hopes and dreams to tick off?

LW: For me? For me, I hope and dream every day. I just want to be better every day.

SB: I will buy that. On a professional level — with a lot of input from him — I have written a screenplay that I just finished before we relaunched our show, and my dream is to get it made. That's it.

LW: I'll definitely be starring in that.

SB: He means that honestly.
Man, oh, man. I would pay pretty good money to get my hands on that. What could Bayless possibly consider so controversial he doesn't even want to share it with his audience? He has made a career (and a certain level of infamy) out of sharing every single intrusive thought he has. That particular trait of his may have even been the first domino that led to the hiatus where he was able to write the screenplay. Yet whatever Bayless has, it's too crazy.
Perhaps one day we'll find out, if we're lucky. Until then we will have to be content with the knowledge that Bayless spent all summer hunched over a script instead of nixing possible Sharpe replacements with gusto.