Skip Bayless: Luka Doncic's Historic Night Not That Impressive Because Knicks Were an Embarrassment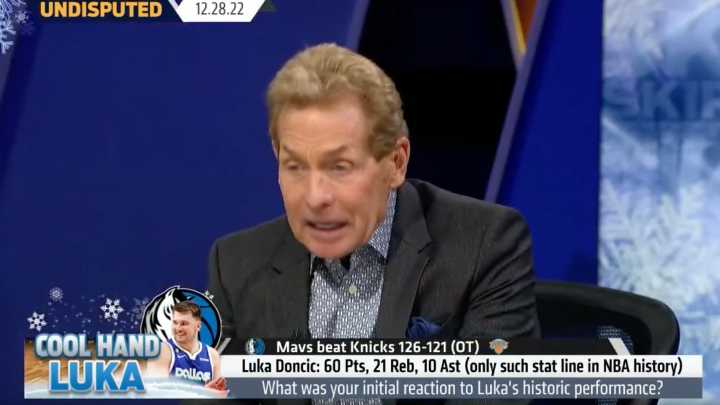 Skip Bayless /
Luka Doncic did what nobody else had ever done last night by notching a 60-point 21-rebound 10-assist triple-double. Literally nobody has ever done that. Do you know how hard it is to do something Wilt Chamberlain didn't do? I assumed it to be impossible before yesterday. Yet Luka did it and hopefully enjoyed a recovery beer shortly afterwards.
Doncic's performance is the talk of the sports media town on Wednesday, in part due to its historic nature and in part because there isn't a whole lot else to talk about today. Which is how we arrive here, watching Skip Bayless explain why a 60-point trible-double isn't really that impressive because the New York Knicks are terrible.
Now, we can get all haughty about this or we can laugh about the fact that Tom Thibodeau played four guys for more than 40 minutes instead of going to his bench. In a desperate attempt to win an interconference game in December. Four players got DNP-CD designations! On a night where Immanuel Quickley played 51 minutes! There is simply no reason to do that, especially when everyone is getting cooked out there. Thibs may as well throw Cam Reddish or Evan Fournier out there.
Anyway, none of that takes away from the absurdity of what Doncic did. Obviously. The Knicks were shorthanded and did not play well last night but they were winning for most of the game. That Knicks team would have beaten all the NBA's bottomfeeders. If they were an embarrassment than it's even more embarrassing that Doncic doesn't simply do this all the time.
Appreciate greatness. Not Skip Bayless.