Skip Bayless: There's No Way LeBron James Retires, His Feelings Were Just Hurt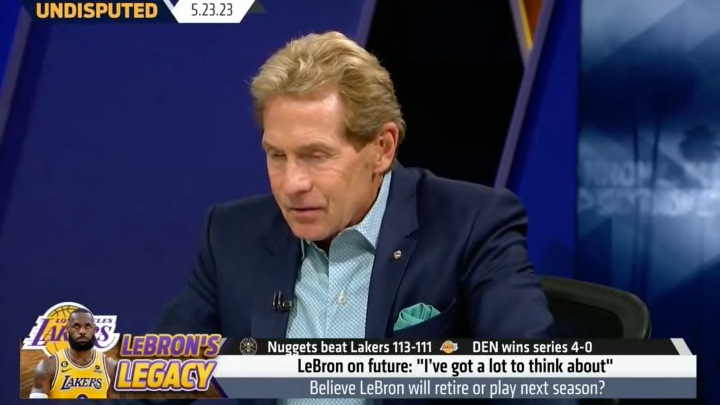 Skip Bayless /
LeBron James played all 48 minutes and did everything he could to desperately stave off elimination at the hands of the Denver Nuggets in Game 4 of the Western Conference Finals last night. He failed despite putting up 40 points. The King was visibly exhausted down the stretch and made a beeline for the locker room after he got stuffed on a drive as the final buzzer sounded. Then he hinted at retirement in his postgame press conference and even though he didn't say the word itself it will generate several days' worth of content for the sports media business.
This is the moment Skip Bayless has been waiting for. All those years of irrationally hating on LeBron. His moment has finally arrived. Or has it?
The Fox Sports personality stepped on the soapbox on Tuesday morning and said he does not think LeBron is retiring. He only hinted at it because his feelings were hurt after he did every single thing in his power to win and still lost-- an unfamiliar feeling for LeBron James.
A shockingly rational take, even if LeBron probably wouldn't frame it as his feelings were hurt. Nothing makes a player of LeBron's caliber feel mortal like getting swept by a younger superstar surrounded by teammates more hungry than LeBron's. It probably isn't surprising he felt he had a lot to consider when asked about his future 30 minutes after that kind of loss.
Still feels like a very long shot that LeBron will hang 'em up, but we'll be talking about it for the next five months so brace yourself no matter what the outcome eventually is.