No, LeBron James Is Not Retiring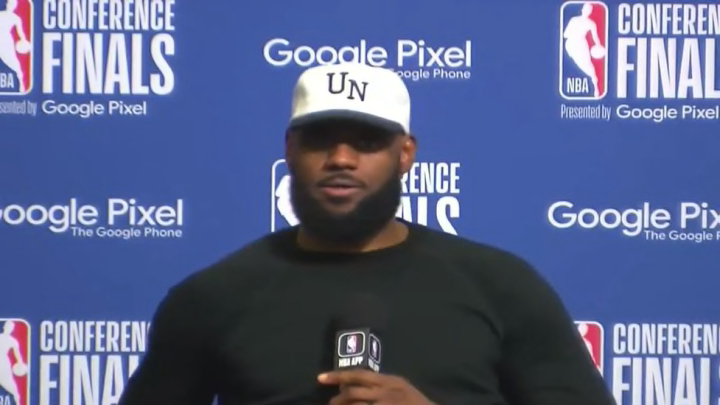 LeBron James and the Los Angeles Lakers were bounced from the NBA playoffs Monday night after losing to the Denver Nuggets 113-111. Despite a highly-competitive series of games, LA was swept by Nikola Jokic & Co. and the franchise faces a lot of questions moving forward. One of them will not involve James' future. While his postgame comments will cause discussion, and Mark Spears reports he's considering walking away, there is almost no chance LeBron is actually going to retire.
Here's what James had to say after the game:
While James' comments about having a lot to think about will get a ton of play on talk shows, he sounds like a tired guy after a long season in which he's been injured on and off.
James turned 38 this season, he's under contract through next season for $46.9 million, and has an option worth $50.65 million for the 2024-25 season. He's highly likely to play out both of those seasons. After all, he just finished a season in which he averaged 28.9 points, 8.3 rebounds, 6.8 assists and 35.5 minutes over 55 games. He's dealt with injuries over the past few seasons, but when he's on the court he's been outstanding.
Moving forward, the Lakers are also set up well for the future. The roster is in better shape than it has been in years. James and Anthony Davis are locked in, as are defensive-specialist Jarred Vanderbilt and promising rookie Max Christie. LA holds options on Malik Beasley, Mo Bamba and Shaquille Harrison. The Lakers also have a first-round pick for the first time in years (No. 17). That said, a number of players will be free agents, including Austin Reaves, D'Angelo Russell, Lonnie Walker IV, Rui Hachimura and Dennis Schroder.
LA should be able to bring some of those guys back. If the Lakers can find a few more shooters and stay healthy, the team will almost certainly be able to make a run in the Western Conference.
The other big factor to consider in James' career is his son. Bronny James recently committed to USC. He'll be playing his home games down the street from Crypto.com Arena. While some expect him to be a one-and-done guy, he wasn't a five-star recruit and doesn't project as a first-rounder in 2024. He could wind up playing two years of college basketball. Both LeBron and his son have expressed interest in playing together at some point in the future. In fact, it's been a big part of their narrative. I don't think LeBron walks away without getting a chance to do that.
James sounded pretty down after the Lakers lost to the Nuggets Monday night. But there is virtually no chance he will walk away from the NBA this offseason.