Skip Bayless: Lakers Need to Hire a 'Puppet Coach' to Operate Under Phil Jackson, Kurt Rambis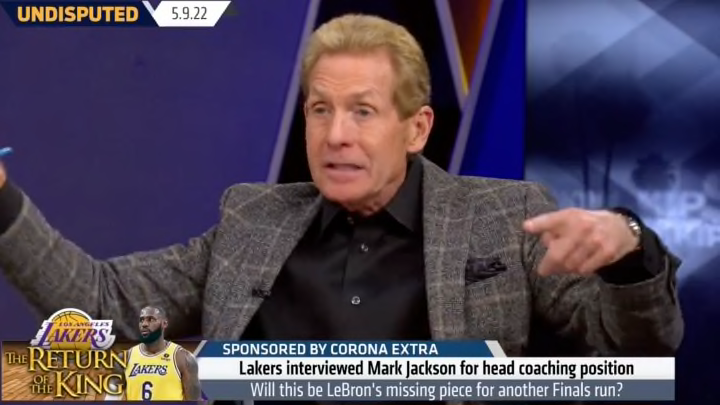 Skip Bayless /
The Los Angeles Lakers' search for a head coach continues. They've gone through a few interviews with the candidates currently available but don't appear to be in any rush. Unlike last year, there aren't a ton of head coaching spots available, which means the Lakers can afford to sit back and survey the landscape as it develops. A few big names may pop up by the time the playoffs wrap up next month, and Los Angeles knows as well as we do that it has time to nail this hire.
This was a topic of discussion on today's Undisputed in wake of the news that the Sacramento Kings were hiring Golden State Warriors assistant Mike Brown, leaving Mark Jackson available should the Lakers be interested in the ESPN analyst's services. Shannon Sharpe continued to bang the drum that Jackson would be a great hire for L.A. Skip Bayless, however, is not convinced and explained that Jackson is too inflexible to coach the Lakers. Instead, they need to hire a "puppet coach" who doesn't mind taking orders from Phil Jackson and Kurt Rambis, the Lakers' unofficial advisors who appear to have a very big say in how things go down.
In the interest of fairness, it is important to note that Bayless doesn't think this is a good idea. He's merely speaking on the reality of how the Lakers are run. Which isn't terribly far from the truth, in all likelihood.
The thing is that Frank Vogel won a championship as his own coach. That Lakers team was best in the area Vogel had always hung his coaching hat on-- defense. It was, from how we understand it, a Frank Vogel team through-and-through. Los Angeles may be taking Rambis and Jackson's opinions into account more than it should but that doesn't necessarily indicate they need a coach who will kowtow to their every word to make sure everyone is happy. And from all accounts, Vogel got canned because he couldn't make the Russell Westbrook experiment work, not because he didn't listen to the advice of the higher-ups on the matter.
It is still a depressing reflection of the Lakers' reality that Bayless thinks they need to hire a lackey instead of a smart basketball mind to keep everybody happy.