Shannon Sharpe: Lakers Should Hire Mark Jackson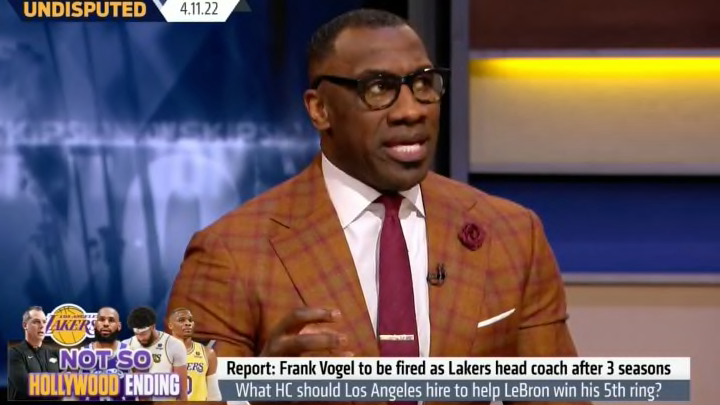 Shannon Sharpe /
The Los Angeles Lakers will have to find a new head coach this summer after Frank Vogel was chosen as the scapegoat for the horrible year the team had. It isn't yet official but it is inevitable. Los Angeles has a lot of other issues to sort out in order to turn the organization around but the first step will be hiring a new coach to lead the effort.
Skip Bayless and Shannon Sharpe were discussing the matter on Undisputed today and Sharpe came up with one name when asked who should replace Vogel: Mark Jackson.
Jackson's name gets floated just about every time there's a head coaching vacancy because he fits the bill of a potential candidate. He played in the NBA for 17 years and got one shot at a head coaching job, lasting three years before getting fired. The fact that the coaching job in question was for the Golden State Warriors, directly preceding Steve Kerr and the following dynasty, only boosts his candidacy. Many, including Sharpe, believe Jackson laid the foundation for the Warriors' historic success.
There is no way to determine that is true, of course. Jackson coached Stephen Curry, Draymond Green, and Klay Thompson in their early days but struggled because they were all young and Curry was still dealing with chronic ankle issues. The reports that emerged after Jackson's firing about the culture he cultivated were not very flattering. But time heals all wounds and the further Jackson's dismissal gets in the past, the more attractive he appears as a candidate.
He certainly fits the bill for a Lakers hire, though. A brand name who everybody knows, mostly due to his constant presence on ESPN's national broadcasts, and someone with experience both on the court and on the sideline. LeBron James-led teams don't necessarily need an X's and O's expert to win. In fact, if the current iteration of the Lakers stay together for next season, prioritizing ego management may very well be the best call for a new hire.
Los Angeles will probably leave no stone unturned unless Phil Jackson wants to come back. Mark Jackson has a great gig right now with ESPN, too. He may not want to enter the coaching waters again after his first time around didn't go so well. But he'll probably be on the list.