Skip Bayless Adamant That Joe Burrow Will Win More Than Patrick Mahomes in the Long Run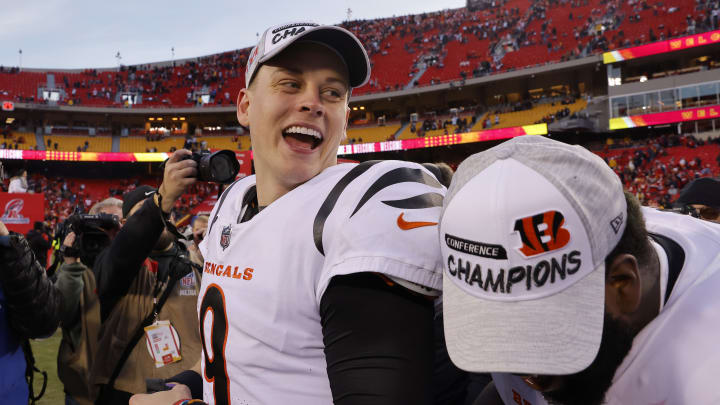 Joe Burrow / David Eulitt/GettyImages
The improbable success story of the Cincinnati Bengals continued unabated on Sunday as Joe Burrow led his squad to an 18-point comeback over the living Death Star that is the Kansas City Chiefs at Arrowhead Stadium. The how and why this happened is as much about the failures of Patrick Mahomes and Andy Reid as it is the successes of Burrow and Zac Taylor, but the end result remains the same regardless. The Bengals are Super Bowl-bound.
It is one of the unlikeliest championship runs in recent football history and features a rising star in the NFL cinematic universe: Burrow. The 2020 No. 1 overall pick has forced his way onto the scene with no regard for narrative in his first trip to the postseason as a professional. Burrow's play and the obstacles he's overcome in the AFC bracket over the last three weeks have kick-started hyperbolic discussions about what he's going to do over his career, the type of arguments usually reserved for a QB's third or fourth year. The kind of thing Skip Bayless talks about here, for example.
Get ready to hear this argument over and over again for the next generation of football. Burrow, unlike Mahomes or even Josh Allen, is not a physical freak of nature. He's a pocket passer who stands tall in the face of pressure (both from the defensive front and the weight of expectations), delivering time and time again. It's why everybody keeps bringing up Tom Brady as a potential comparison. Burrow's resume, even short as it is, proves that he just wins no matter how it needs to get done.
Bayless is very eager to be first on this particular debate because it could well be the framework for every mid-hour sports debate show for the next 20 years. Two young and talented quarterbacks who win games in very different ways, but win all the same. Since they reside in the same conference and will for the foreseeable future, it is quite possible we see them face off again with similar stakes. If we should be so lucky, this is the argument that will rear its head.
Very rare to be privy to the birth of an Endless Debate, folks. Appreciate it.