Keyshawn Johnson and Richard Sherman Cornered, Forced to Listen to Prolonged Skip Bayless Rant About Dak Prescott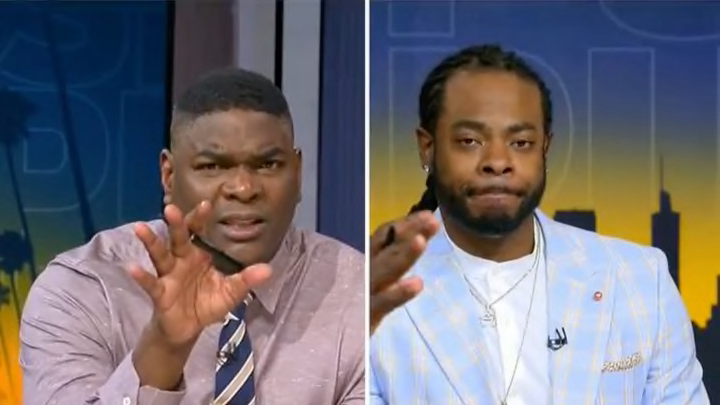 We've said it many times before but it bears repeating. The best part of these sports-debate shows are not the actual debates. They are the reaction shots of the people listening to them while on national television. It's just as entertaining to watch these things with the sound off than with it blasting — and that's not a knock at all. If you wanted to do just that, mute this nearly eight-minute segment that made it onto Undisputed this morning and watch how Keyshawn Johnson and Richard Sherman try to navigate through the prolonged ramblings of Skip Bayless as he tries to throw the real Dak Prescott in the trash like that jersey he has thrown into the trash a few times.
Even though they knew exactly what they were signing up for, a kind person never wants to watch anyone else go through this. Especially because, after all this, Bayless' main arguments seem to be that the organization either needs to make a huge trade to move up and pick Caleb Williams in the NFL Draft or hop in a DeLorean and go years in the past so they can get Tom Brady like he suggested they do at the time.
If you prefer the audio experience, you'll be pleasantly surprised at how Johnson and Sherman bat down idea after idea with pretty sound logic and reason. It may be their best stretch since joining the show.
Prescott is going to be the Cowboys quarterback for the rest of this year and the team could still have some playoff success. They are good! Just not as good as the San Francisco 49ers. If that's the bar then every other team in the league is in the exact same position. And Prescott will more than likely be the man in Dallas for years to come because he is good enough, given help from the defense and special teams, to win a Super Bowl.
Seriously, there are plenty of QBs who weren't nearly as talented or productive as Prescott that have reached that hallowed ground. Bad news for Skip, great news for content and fans of watching blood pressure spike.