Skip Bayless Commends Cowboys For Leaking Negative Odell Beckham Jr. Injury Information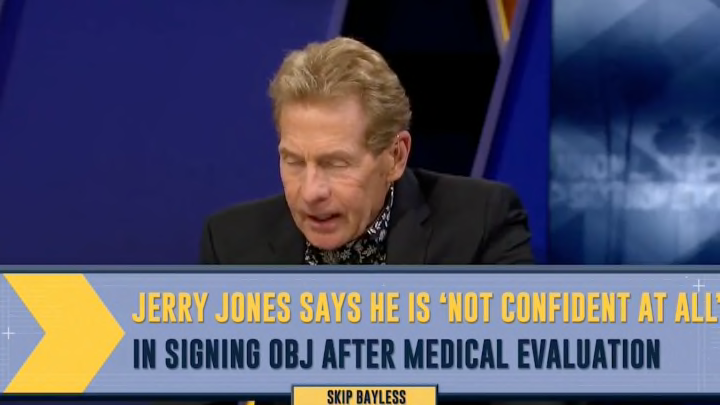 Skip Bayless /
Odell Beckham Jr. finally showed up to The Star and visited the Dallas Cowboys earlier this week. What followed was an aggressive change in tune from Jerry Jones. After publicly campaigning for Beckham to come to Dallas to the point that it got embarrassing, Jones suddenly flipped a switch and urged caution to reporters. Here is the most telling of his quotes:
"If this thing works, it will improve this team now. It will improve it this year. If we don't have that, then we're in a positive situation as well. It has to improve us now. You know that's a pretty tall order. And it has to improve us in a way that makes sense for us as we look not only this year but as it impacts the years to come relative to the financial aspect of it."
Jerry Jones is not an "if" person. He likes reckless guarantees. So for him to back off the OBJ situation the minute the receiver stepped foot in Dallas is... suspicious.
Hours later, Ed Werder tweeted out that the Cowboys do not think Beckham Jr. will be ready to go before the playoffs start.
Skip Bayless discussed the sequence of events on Undisputed today and drew the through line that the Cowboys might have leaked the injury information to the media as a negotiation tactic. You'll be shocked to hear that Bayless approves.
Football is a pitiless game but leaking that sort of medical info is pretty damaging for OBJ and certainly does nothing to increase the probability that the Cowboys will sign him. In fact, it feels like a bridge-burning move. Which is pretty weird.
It would be a blessing to all of us if the OBJ sweepstakes came to an end. Sadly, the Cowboys were our best bet on that front. So we all continue to suffer.