Skip Bayless Wants Charles Barkley on 'Undisputed': 'Let Me Make Barbecue Chicken Out of You'
Sports media's favorite feud adds a new chapter.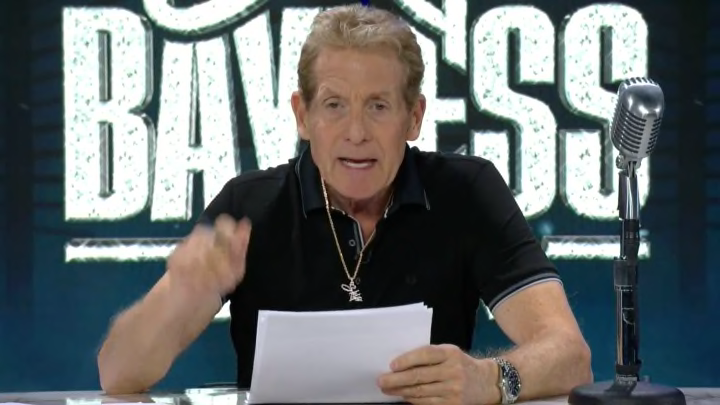 Skip Bayless /
The Skip Bayless-Charles Barkley feud was in the spotlight again this week after Paul Finebaum applauded Barkley for calling Bayless an "idiot" during the NBA Finals in June. With Undisputed still on hiatus for nearly another two months, Bayless' only choice was to respond via his eponymous podcast. And boy, did he ever.
The Twitter account for The Skip Bayless Show dropped a video on Thursday of Bayless straight-up begging Barkley to replace Shannon Sharpe on Undisputed so he could destroy him in debates every single day. It starts off with a light tone but quickly changes into a reflection of how low Bayless' opinion of Barkley is in the sports knowledge arena. At one point Bayless says outright that Barkley coming on Undisputed would be like retiring due to the complete lack of preparation he'd have to do to annihilate Sir Charles.
Now we're getting a little spicy with it! This feels like the first time Bayless has let Barkley's comments get to him. To this point he's done a good job of adopting a pandering, even condescending tone when acknowledging the NBA Hall of Famer's constant string of shots at him. But this time you can hear how badly he wants to destroy Barkley on a televised stage.
I think we all share the same desire. Barkley is many things but a sports analyst he is not. Or, at the very least, he is uninterested or incapable of explaining his opinions to the audience in way that makes his arguments convincing. He has more fun just saying stuff. In fairness, that's part of why he is a beloved part of the media landscape. It's also why he couldn't go on set for three hours and hold his own in a standard debate format.
You know what he would do, though? He'd roast the hell out of Bayless, win or lose any actual argument. For that reason alone, Barkley should take Bayless up on his offer for one day.