Skip Bayless Breaks Down LeBron James Ejection, Calls For Suspension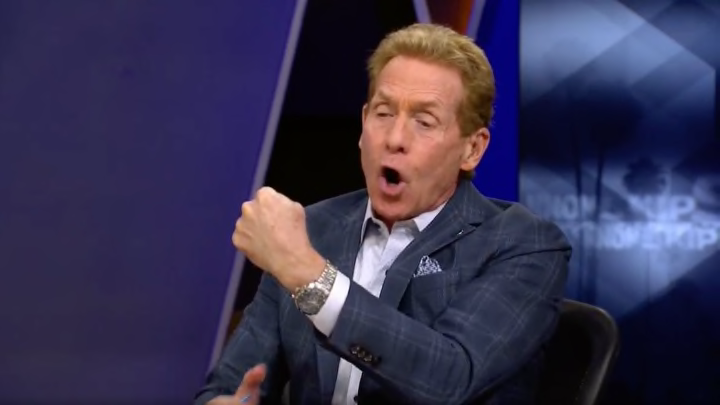 'He CLOSED HIS FIST' /
LeBron James got into one of the very few on-court confrontations of his career last night when he smacked Isaiah Stewart in the face. It led to an ejection for both players as Stewart attempted to break the arm tackles of his teammates and security to go after LeBron and his Lakers teammates several times over the course of a few minutes. It was quite a scene.
It will also come with consequences for everyone involved. Stewart will definitely get suspended, even if LeBron cast the first stone with his closed-hand smack that forced Stewart to get stitches after the game. LeBron didn't further incite any conflict and thus will probably just get fined.
Skip Bayless is here to make the argument that LeBron should get suspended because the play was dirty. He broke it down frame by frame on Undisputed this morning.
Here is video of LeBron hitting Stewart:
Bayless is probably right that was intentional to an extent. LeBron certainly did not mean to hit Stewart that hard and cause bleeding, but it's kind of like a pitcher throwing a brushback pitch at a batter. It was a warning to back off that ended up landing and causing a much bigger problem.
But the officials didn't eject LeBron because they deemed it dirty. Any time a player gets hit in the head, the offending party receives a flagrant 2 and gets tossed. It's a hard and fast rule that the referees stick to, no matter who's involved. Just because he was ejected does not mean the parties involved collectively believe it is dirty, and doesn't indicate what will happen when the punishments come down from the league.
We'll find out soon if Bayless gets his wish.