Titans Should Sign Isaiah Stewart to Replace Derrick Henry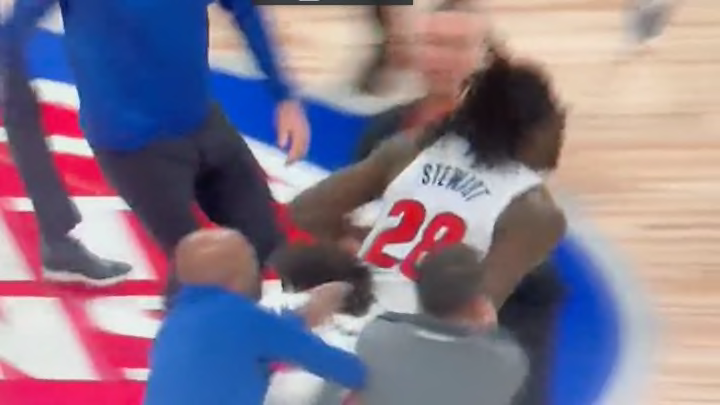 Isaiah Stewart, NFL running back /
Last night, LeBron James poked the wrong bear and nearly got into a fistfight with burly Detroit Pistons center Isaiah Stewart. LeBron hit Stewart in the face pretty hard while attempting to secure a rebound, and Stewart began to profusely bleed from a cut above his eye. He was very, very upset about this and had to be dragged back to the locker room after numerous attempts to run at the Los Angeles Lakers.
It's the closest we've come to a real brawl in an NBA game since maybe the Rajon Rondo-Chris Paul debacle in the early days of the 2018 season. LeBron and Stewart were both ejected. Stewart will probably face a suspension because one does not try to fight LeBron James without suffering serious consequences from the league, even if LeBron is far from an innocent party in this particular scenario.
In the meantime, Stewart should sign with the Tennessee Titans because my goodness is this man hard to bring down. He bowls over teammates and arena security alike as if they were bowling pins and he the ball. I mean, check out this All-22 angle of Stewart's final mad rush.
Nobody can truly replace Derrick Henry, but Stewart had a great audition for the role last night. Get that man some lead blockers and literally nobody could stop him. His top-end speed is probably less than ideal considering he's 6-foot-8 and 250 pounds, but many said the same about Henry before he showed the world he is the best running back alive.
Food for thought.