Sean Payton and Russell Wilson Exchanged Words After Final Turnover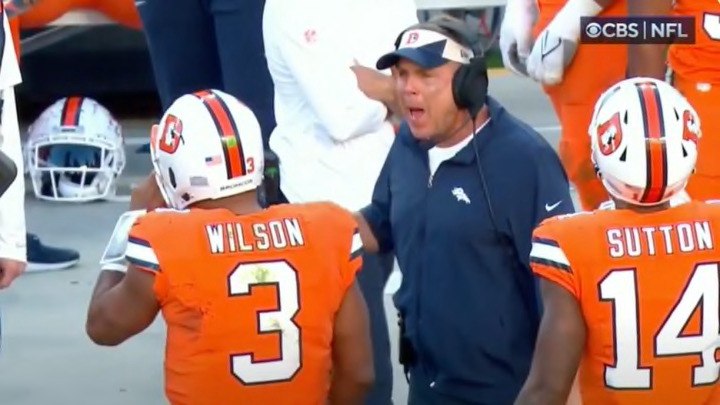 The New York Jets beat the Denver Broncos, 31-21, in the Aaron Rodgers-less Nathaniel Hackett Bowl in Week 5. Zach Wilson was servicable while Russell Wilson completed 20 of 30 passes for 196 yards and two touchdowns, but committed the fumble that ended the game when the ball was picked up and run into the end zone by Bryce Hall.
As Wilson got to the sideline coach Sean Payton was there waiting with something to say. [UPDATE: We found better video.] We're looking for better video, but in the meantime try this one with the NSFW bad NFL lip reading. You can see Payton move his microphone so he can ask Wilson an important question. A replay would show Wilson taking off his helmet and turning to answer Payton.
This was not the first time their relationship has shown some strain during the season.
Now contrast that with what was happening on the other side of the field as everyone on the Jets lined up to congratulate Nathaniel Hacket after Payton made it personal over the summer.
With the loss the Broncos are now 1-4, which is even worse than their 2-3 start last season. Sean Payton has certainly brought something to the team, it's just unclear what it is beyond more attention. Denver came into the game with the worst defense in the NFL.