Aaron Rodgers on Sean Payton: 'He needs to keep my coaches' names out of his mouth'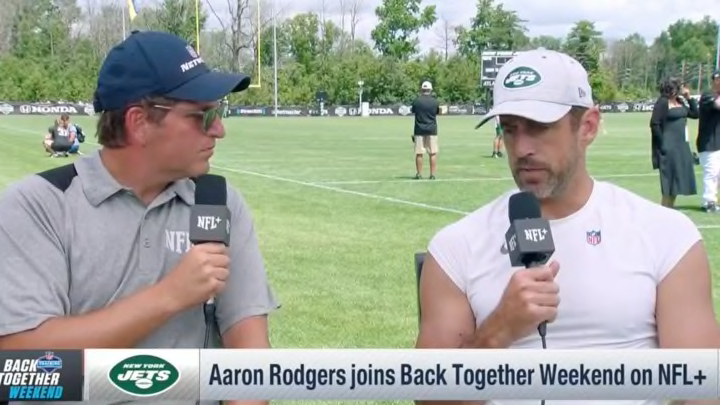 Sean Payton raised plenty of eyebrows last week with some comments about the 2022 Denver Broncos. Going well beyond the usual coach-speak, Payton specifically called out Nathaniel Hackett for the job he did, saying it "might have been one of the worst coaching jobs in the history of the NFL." He also took a shot at Hackett's current team, the New York Jets, for the way they're handling the offseason. Peter Schrager finally sat down with Aaron Rodgers today to asking him about it and Rodgers did not mince words.
"I love Nathaniel Hackett and those comments were very surprising. For a coach to do that to another coach? My love for Hackett goes deep. We had some great years together in Green Bay. Kept in touch. Love him and his family. he's an incredible family man. Incredible dad. And on the field, you know, he's arugably my favorite coach I've ever had in the NFL. His approach to it, how he makes it fun, how he cares about the guys. Just how he goes about his business. With respect, with leadership, with honesty, with integrity. It made me feel bad that someone whose accomplished a lot in the league is that insecure that they have to take another man down to set themselves up for some sort of easy fall if it doesn't go well for that team this year? I thought it was way out of line, inappopriate and I think he needs to keep my coaches' names out of his mouth."
Hackett was Rodgers' offensive coordinator from 2019 to 2021 in Green Bay with the Packers going 13-3 each season and Rodgers winning two MVP awards so obviously they worked well together.
As for Payton's original quotes, they're twice as confusing because not only are they unprofessional and just generally not cool, but they actually put more pressure on Payton, Russell Wilson and this year's Broncos team. Now that Hackett is gone they had better be good or it means Payton sucks too.
Again, these teams will meet in Denver on October 8th.