Jeff Darlington: Cowboys Would Be a Super Bowl Contender With Sean Payton as Head Coach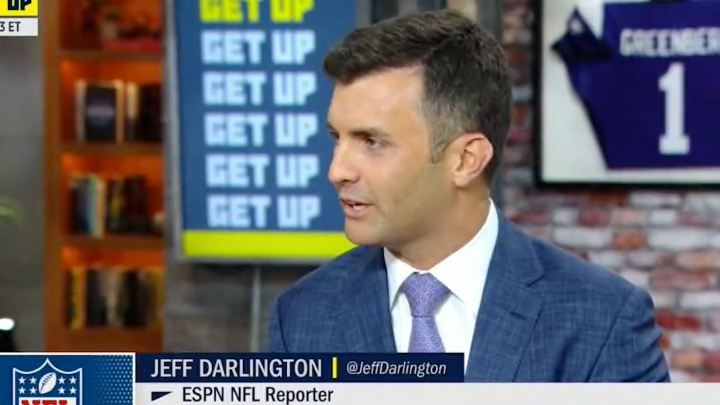 Jeff Darlington /
The Dallas Cowboys enter the 2022 season with high expectations after winning the NFC East last season, but bowing out of the playoffs early after a nailbiting loss to the San Francisco 49ers. You may recall they lost that game in part due to a baffling playcall with time winding down-- a Dak Prescott drawn down the middle with 14 seconds to go with no timeouts. The Cowboys couldn't get set to spike the ball and we got one of the more bizarre endings to a playoff game we've ever seen.
A lot of the blame in the immediate aftermath was thrown at head coach Mike McCarthy, who has a well-earned reputation of bungling late-game clock situations. Despite the franchise throwing its full weight behind McCarthy in the months since, there's still lots of chatter about who the right coach is to take the roster to the next level. Sean Payton, in particular, has been a talking point after he retired and is still openly speaking about what his next coaching gig might be. Which is kind of weird on its own but that's a separate discussion.
Today, ESPN touched on the possibility of Payton returning to the Cowboys (where he got his start as a coach) and Jeff Darlington said his presence on the sideline would make Dallas a Super Bowl contender.
I don't really know if that's true! Payton is a tremendous offensive mind who elevates his roster with his playcalling but putting up points in numbers isn't really the Cowboys' problem. Doing so consistently was tough last season but it wasn't the difference between a Super Bowl and a lost season. There are other issues at play that lie outside of Payton's control or expertise.
Like the defense. Last year's unit was excellent in the turnover department but wasn't exactly airtight in the big picture. They ranked 19th in the league in total yards given up and 20th in yards per play. It's a fine defense and those are acceptable averages when forcing as many turnovers as they did, but turnover variance is real and the pendulum will likely swing back the other way this season.
The offense fell off in the second half mostly due to injury, which is not something Payton can affect. Prescott hurt his calf and the offensive line got banged up. The run game was non-existent given Ezekiel Elliott spent most of the season injured. Payton is capable of mitigating the impact of that but not to the extent that Dallas would've gone to the Super Bowl if they had him instead of McCarthy last year.
The Cowboys are a good team but it's tough to argue they'd become a great one simply by replacing their head coach.