Ref Runs Into Dak Prescott, Costs Cowboys Final Play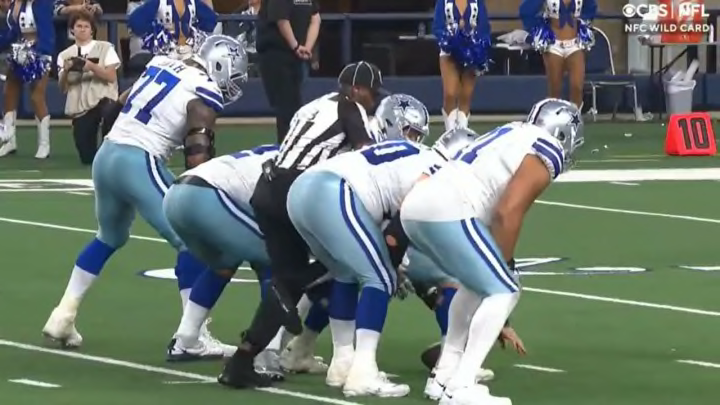 Referee runs into Dak Prescott on final play of Wild Card game. /
The Dallas Cowboys lost to the San Francisco 49ers in the dumbest way possible Sunday afternoon. The Cowboys were on a late drive in an attempt to steal a last-second win in the Wild Card round, made a terrible play-call, then had an official cost them precious time as they tried to stop the clock. It was freaking wild.
With 14 seconds left, the Cowboys had the ball on San Francisco's 41-yard line trailing 23-17. The 49ers played the classic late-game sideline defense, leaving the middle of the field open. The Cowboys took the bait, and ran a quarterback draw with Dak Prescott. He gained 17 yards and went down at San Francisco's 24-yard line. The problem with that? The clock was running.
The Cowboys lined up to spike the ball, but an official had to set it before they could run a play. As the official ran in to officially line the ball up, he crashed into Prescott and Cowboys center Tyler Biadasz. That cost Dallas at least a second or two as everyone got set. Time expired before the Cowboys could get the snap off.
Check this out:
Here's another angle:
That's really hilarious and definitely cost Dallas a bit of time. But let's remember the real culprit here: calling a quarterback draw with 14 seconds left and no timeouts. What the hell did they think would happen? This isn't college football where the clock stops after a first down. I've long said the NFL should adopt that rule, but it doesn't currently exist.
This is also on Prescott. Instead of finding an official to give the ball to, he gave it to his center. The official then had to take it from the center and reposition it.
Tony Romo explained that aspect of the play:
If you're going to run a play like that, you have to know what comes next and the Cowboys clearly had no idea what to do.
What an awful, yet hilarious, way to end the season.